Go back
Building Regional Skills Ecosystems: EARLALL's Workshop at the European Week of Regions & Cities 2019
11/10/2019
#SkillsEcosystems #EURegionsWeek2019
---
"All of us will be confronting throughout our lifetimes with technological disruptions. Learning and education systems will need to respond much quicker than ever before."

João Santos (European Commission)

"The borders between higher education and vocational education and training (VET) will blur in the near future."

Jonathan Barr (OECD)
---
Six EARLALL Member Regions introduced their initiatives to build skills ecosystems in the presence of European Commission's and OECD's representatives on the occasion of the European Week of Regions & Cities 2019. On 10 October, the European Committee of the Regions hosted in Brussels a workshop during which views were exchanged and new ideas arose in a climate of cooperation and willingness to take future actions to develop strong regional policies in the field of skills.
Participants and speakers were welcomed by Ms. Noelia Cantero (EARLALL Business Manager), who reminded of the importance of lifelong learning and the role of regions for a successful future of Europe.
Vocational Excellence and Future-proof Labour Markets: Keynote Interventions from the European Commission and the OECD
Mr. João Santos (Deputy Head of Unit at European Commission's DG EMPL) inspired future cooperation by presenting the concept of "Platforms for Vocational Excellence" as a way of co-creating skills ecosystems for regional development and innovation — linked to regional smart specialisation strategies, this concept aims at gathering together all relevant stakeholders. He also presented the upcoming report Mapping of Centres of Vocational Excellence, to be published soon, and announced upcoming funding opportunities for the exchange of expertise among European regions and municipalities, including a new Erasmus+ call for Platforms of Vocation Excellence under Key Action 3 (KA3).
His explanations were followed by the speech of Mr. Jonathan Barr (Head of Unit at OECD), who showcased data regarding education attainment and the quality of employment in European regions. He also pointed out that there are widening gaps between regions in terms of quality of jobs and skills. He finished by giving some tips for local leaders, who are at the forefront of ensuring that communities benefit from the new opportunities that are likely to emerge from automation and digitalisation:
Understand the local labour market.
Promote programmes for lifelong learning and retraining.
Develop employment and adjustment programmes.
Leverage social innovation and help under-represented groups.
Create new jobs through entrepreneurship and SME development.
Build stronger local partnerships.
Keynote Speakers' Presentations
Regional Case Studies of Skills Ecosystems
Regional representatives' presentations followed. Mr. Rikardo Lamadrid (Technology and Advanced Learning Director at the Department for Education of the Basque Goverment), introduced the Basque strategy for the alignment of Vocational Education and Training (VET) with the Sustainable Development Goals (SDGs) and the green agenda of the new European Commission. He highlighted the importance of not leaving anyone behind and rowing together towards a sustainable future.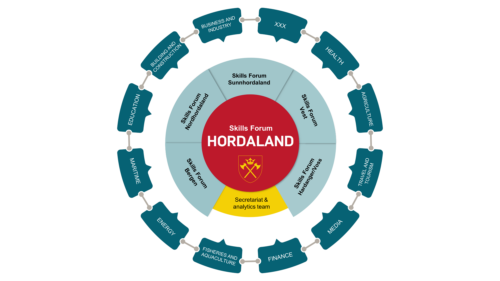 Afterwards, Ms. Katrhing Jakobsen (Head of Research, Internationalisation and Analysis at the Department of Regional Development in Hordaland County Council), introduced Skills Forum Hordaland, an initiative that brings together stakeholders at regional level to develop skills in the area. As she pointed out, trust-building and political support are essential success factors.
Then, Mr. Miroslav Huđek (Head of the Department for Education, Culture and Sport of Varaždin County) presented the centres of excellence in Varaždin County, an initiative that was born in 2007 and has proven to have had very successful results, as well as the importance of international and political engagement in the area to boost VET. Increases in budgetary allocations for VET and high scores in world rankings are just some of the achievements of the region, which keeps on promoting it and raising its quality.
Ms. Maria Goitia (Principal of Gijon's VET Integrated Centre for the industry and tertiary sectors, CIFP de los Sectores Industrial y de Servicios de Gijón, Principality of Asturias) presented how the commitment of the business sector has been key for the development of a successful dual VET system in industrial chemistry. She pointed out that collaboration is a must, and underlined the importance of continuous teacher training.
Representing Brittany Region, Mr. Tangi de Rochefort (Project Manager in charge of Innovation, Employment and Business at Brittany Region's Directorate for Employment and Lifelong Learning) introduced the three-axed strategy in the region for innovation in VET: innovation in people, innovation in VET (technology and pedagogy) and innovation with companies.
Lastly, Ms. Andrea Bernert-Bürkle (Head of the EU Project Unit at Volkshochschulverband Baden-Württemberg) introduced Baden-Württemberg's strategy for a strong development of digital skills in close contact with companies and employment services. Several policy initiatives are being put into practice in the region, such as the Digitisation Strategy digital@bw, the alliance to strengthen (dual) vocational training and skilled work and the pact for lifelong learning.
Panel of speakers

EARLALL Member Regions' Representatives
Regional case studies' presentations
Useful Links