Go back
YESpecialists takes off: two days, infinite best practices!
12/11/2020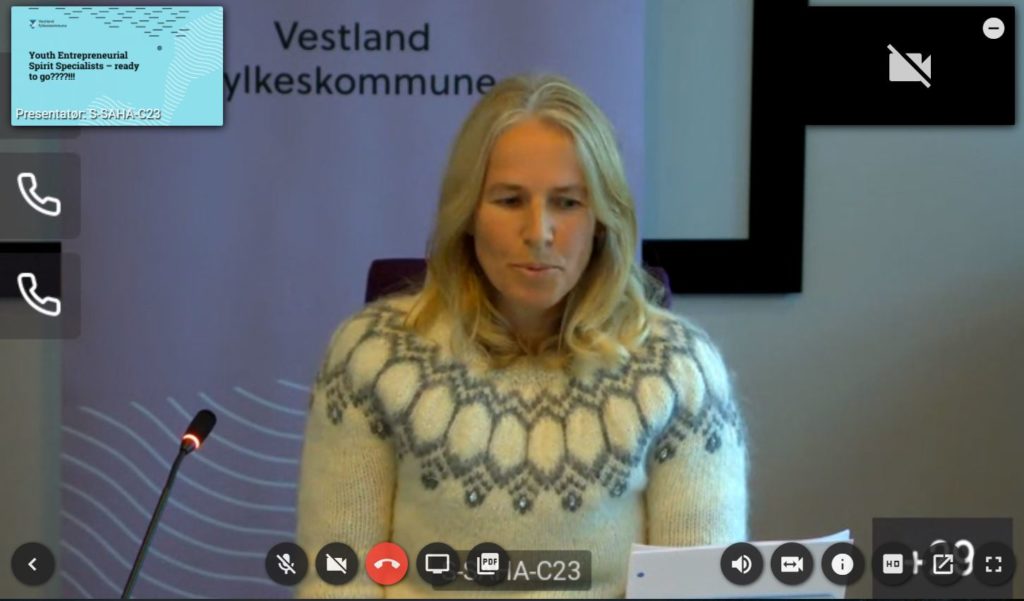 The YESpecialists project, led by Vestland County Council (Norway) and co-funded by the Erasmus+ programme of the European Union, was officially kicked-off at a two-day conference held on 22 October and 9 November 2020. The Youth Entrepreneurial Spirit Specialists project aims at building local and regional ecosystems that foster youth entrepreneurship in rural areas by having local stakeholders joining forces: regional/local authorities, education centres, businesses, youth organisations and civil society. Project parters that are joining this innovative initiative are Tuscany Region (Italy), the Autonomous Province of Trento (Italy), Varaždin County (Croatia), Ringkøbing Skjern Municipality (Denmark), and the Principality of Asturias (Spain).
The kick-off conference introduced key topics that will be touched upon during the project, gathering experts on different aspects in relation to youth entrepreneurship and rural development. The first day focused on good practices of entrepreneurship education in rural Europe, featuring examples of best practices from the project partner regions. The conference was opened by Mette Nora Saetre, Head of Urban and Rural Business Development at Vestand County Council, who introduced participants to Vestland, a region with a "wide variety of industries, mainly ocean-oriented," and Barbara Harterink, YESpecialists project coordinator (Vestland County Council).
Regional good practices followed. Iván Diego, from Valnalón, entrepreneurship agency from the Principality of Asturias, introduced Asturias' strategy to boost entrepreneurship, based on three strategic axes: entrepreneurial culture and talent, start-up support, and impact & dissemination. Then, Miriana Bucalossi, from Tuscany Region, presented how community cooperatives have contributed to the development of rural areas in the region, and Emil Sloth Sig, Volunteer Coordinator at Ringkøbing Skjern Municipality, focused on the promotion of youth volunteering and its benefits for the community and individuals. Lastly, the case of Varaždin was introduced by  Petra Županić, who showcased how entrepreneurship education is organised at Ivanec High School, and Vestland's  best practices in Florø Upper Secondary School and Odda Upper Secondary School were presented by Geir T. Rønningen. 
Good practices in building local partnerships to foster youth entrepreneurial skills were showcased during the second day of the conference. The film creative center VANIMA's activities in Varaždin were highlighted by Hrvoje Selec, and the Clue to Inclusion project was introduced by Arthur Tøsdal (Årstad Upper Secondary School, Vestland), which sucessfuly transferred non-formal education methods into formal education. With regard to best practices in Ringkøbing-Skjern, Michele Lykke (startup consultant) presented the activity of Ringkøbing Skjern Erhvervsråd, the business council in the municipality, and Emil Sloth Sig (volunteer coordinator) showcased how youth inclusion in voluntary work is achieved in the area. Key actions in Tuscany were highlighted by Miriana Bucalossi, who introduced the region's support to smart villages and co-working spaces. The research perspective was added by Rita Agdal, from the West Norway University of Applied Sciences, who explained the Asset Based Community Development (ABCD) method for community building.
Project partners are already working on their first work packages, identifying and mapping best practices across Europe to foster youth entrepreneurship in rural areas, and developing regional and local youth entrepreneurial skills ecosystems. The next transnational project meeting will take place in Asturias in spring 2021.
Presentations (day 1)
Presentations (day 2)
Useful links