Go back
EARLALL General Meeting 2022 takes place in Varaždin County – where excellence lives
17/11/2022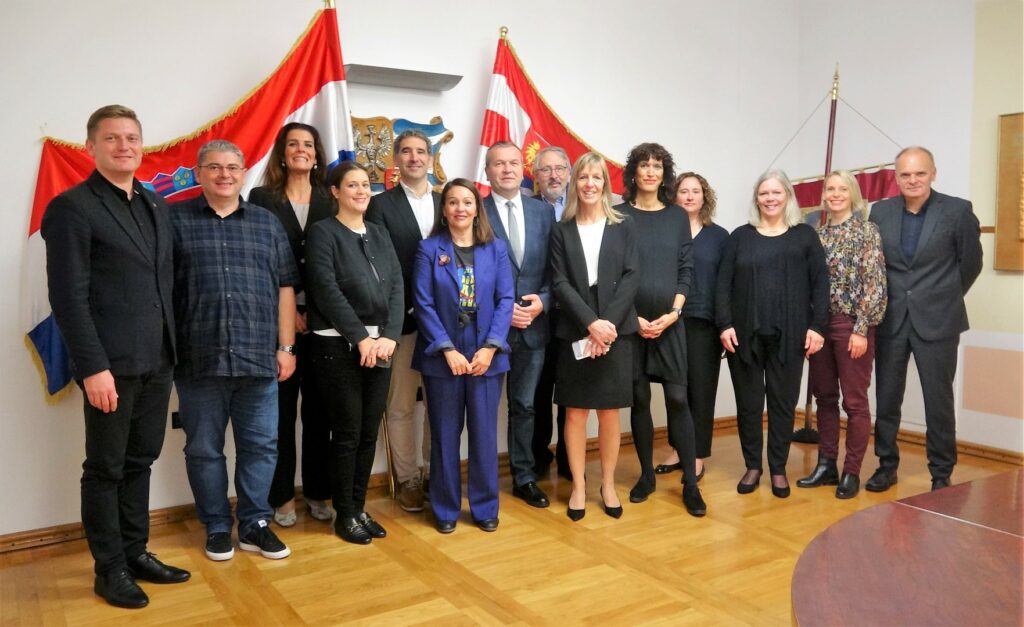 EARLALL General Meeting 2022 took place in Varaždin (Croatia) on 26-27 October 2022, hosted by our member region Varaždin County under the slogan "Varaždin County – where excellence lives", in line with the 15th anniversary of the local Centres of Excellence and 20 years of working with talented youngsters in the region. The General Meeting 2022 programme included a meeting with representatives of the County authorities, the General Assembly and study visits to Varaždin centres of excellence.
Meeting the local authorities
EARLALL's two-day General Meeting 2022 was opened by EARLALL's President Rikardo Lamadrid, County's and Prefect Anđelko Stričak, Head of the Education Department Miroslav Huđek and representatives of the County authorities.
Before the association's General Assembly, the local Prefect Anđelko Stričak welcomed EARLALL representatives in the County Palace and introduced the rich history of Varaždin County, stressing that "Education has always been a priority for us, and Varaždin takes special care of connecting educational programs with the needs of the economy so that 70% of high school students study for professional occupations, 25% of them are in gymnasium high school programs and the remaining 5% are in art programs." He continued by explaining, "outside the borders of Croatia, we are recognized for our Centres of Excellence, where we work with gifted children, and in addition, we have five Centres of Excellence in vocational education, and we are building two regional vocational centres of competence. It is in them that we will make a breakthrough in lifelong education in the field of health and agriculture. Adult education is carried out in three forms: as training for new jobs, retraining and advanced training, and the goal of the Republic of Croatia is to reach the European Union average in adult education, which is 10.8%, by 2030!"
EARLALL General Assembly 2022
Following the institutional speech, the General Assembly was chaired by Rikardo Lamadrid, Director of General New Technologies and Advanced Learning, Regional Ministry of Education, Basque Country (EARLALL President) and Noelia Cantero, EARLALL Director.
Representatives of EARLALL discussed the most important activities in the past year and approved activities for the upcoming period. The Activity Report 2022 and the Work Plan 2023 were approved by the members. Furthermore, EARLALL presented a new document this year, a booklet summarising the work on EU-funded along with the year 2022-2023.
EARLALL 2022 Working groups highlights 2022 – 2023:
WG Mobility: working on an international match-making-platform and propositions to define the role of ambassadors;

WG Skills and Labour Market: three running EU-funded projects; one pending proposal and one CoVEs proposal in preparation; participation in key events and the launch of specific webinars on training opportunities, apprenticeships, promoting VET qualifications and international mobility in different sectors;

WG Youth Policies: two running projects, YESpecialists and Stride4Stride; participation in policy events such as the OECD Local Skills week and two events organised during the EU Regions and Cities Week;

WG Ageing Societies & Lifelong Guidance: workshops; two online meetings; bilateral study visits; one EU-funded proposal and one running project – SMALEI – Sustainability Matrix for ALE institutions.
In 2023, EARLALL member regions are planning to contribute to the European Year of Skills with several events and local initiatives. The highlight of this year would be a high-level politcal conference with regional representatives. More information will be shared in due course. Furthermore, EARLALL wants to support its members to expand their knowledge in different areas, as we never stop learning and the heart of our network is lifelong learning. To support our members, we will be launching the EARLALL Academy in 2023, with further information coming soon.
Welcome to our newest member!
An important highlight of the meeting was the members' approval of the associate membership request by Camilla Winter AB. Camilla Winter AB is an Educational Consultancy Organisation founded in April 2022 in Borås, Region Västra Götaland (Sweden). Camilla Winter AB aims to provide counselling and support, EU training courses and workshops. Camilla Winter AB joins the 12 members/regional authorities and three associate members.
Study visits to Varaždin centres of excellence
EARLALL members had the opportunity to learn more about the Varaždin County education system. Members also toured around 12 Centres Of Excellence in Varaždin County that were previously introduced by Miroslav Huđek (Head of the Education Department) and Robert Kelemen (Director of European Talent Centre Croatia) who explained in detail the whole concept and network of Centres of excellence and its added educational value in the presentation " Varaždin County – where excellence lives".
EARLALL representatives thanked Varaždin authorities for hosting the meeting, in addition to sharing with them their successful educational model. Their membership is a real asset for other EARLALL members as they can learn a lot from their local "Centres of Excellence" model.
General meeting 2022 materials:
Varazdin study visits presentations: