Go back
Youth Experience in the NEETs For NEETs Training Workshops
11/01/2023
The first 'Train the Trainer' workshop for the NEETs for NEETs project occurred in November 2022. The NEETs for NEETs project seeks to improve inclusive methods to empower young adults (NEETs, Not in Employment, Education or Training). The project works on co-creating and adapting an existing example of good practice of youth inclusion, the ReAct Self-Empowerment model, developed by the organisation Support Group Network (SGN).
The 'Train the Trainer' workshop invited 17 staff members from project partners: Support Group Network; Save the Children; Region Västra Götaland Folk High Schools (Sweden); Borås Stad (Sweden); Nav Bjerke (Denmark); Oslo VO Rosenhof (Denmark); Stuttgart City and Volkshochschulverband Baden-Württemberg (Germany) to be trained by 18 young adults (NEETs or with relevant experiences) from Norway, Sweden and Germany.
The participants received training in various tools, including forum theatre for identifying situations of oppression; strategic planning; interculturality and leadership and communication. EARLALL talked with various participants of the training to gain an understanding of the impact of the project's training on their professional and personal lives.
Salem's Experience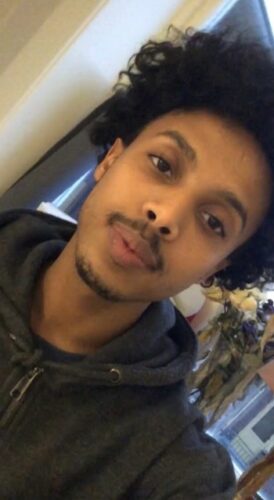 Salem is 24, living in Oslo and is currently taking Norwegian courses. He participated in the Stuttgart training in November, after joining the project in the autumn of 2022. EARLALL spoke with Salem about his experience on December 22, 2022:
Salem, how did you get involved in the Stuttgart training?
It was an unexpected opportunity! One of the staff members told one of my friends, who told me about it, and I knew that I really needed to be involved once I'd heard about it.
What did you learn in the training, and how might that help you with your future plans?
I want to study interior design and I am currently doing Norwegian classes. It will be hard because everything will be starting from the beginning. From the training, I learnt so many different tools, particularly forum theatre. For the forum theatre, I liked the way that the idea of the 'oppressors' was brought up and it was very eye-opening. I also learnt how to make strategic plans from the group from Sweden. That's the main tool that I could take interest in because I wanted to focus on my future and strategic planning is so important, like learning about timelines and showcasing. I wasn't expecting that I would take such a lesson back, but I realised that that was what I needed, and that feels good.
I want to learn how to use the tools that I learnt about and to hold a workshop for others, either in forum theatre, or strategic planning.
What did the experience bring you personally?
It was a fun and interesting experience. When I started, I didn't know the other staff. When I went to Stuttgart with the trainers, we met other people and that's when we got to know each other better. I did make friends too, particularly from Sweden and Germany. Our communication as a group was so good, in the way we were working together, or the way we woke up early in the morning and had breakfast and went to the sessions. I hadn't travelled much before, besides a few times to Sweden. I want to travel more now, to learn about different cultures.
Would you try to bring more young people on board for the project?
I spoke to one of the staff members that I know well after the training. I visited her and told her that we need to get more students to take advantage of this and of what we learnt. So we are actually doing it, hopefully!
Jasmina's experience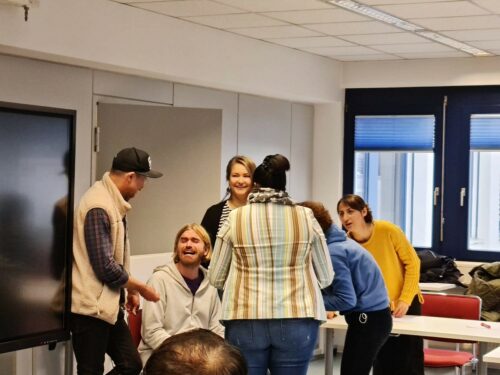 Jasmina is living in Sweden and attended the 'Train the Trainer' workshop as a staff and an active participant. EARLALL spoke with her about her experience on December 23, 2023:
Jasmina, how did you get involved in the project?
I got an email from my boss saying that I was nominated to go on the training. I didn't really know about the project as I only found out about it at a late stage. But I was very enthusiastic, and I read a bit about it online and wanted to be involved.
What do you think the main purpose or benefits of the project are?
It's both about empowering youth, and about empowering professionals to change their mindset in seeing the potential of youth in new ways – at least that is what happened to me. I got a completely new mindset from the project. I saw how I wanted to work, and it was very inspiring.
What was the most interesting tool that you learnt about from the training?
The forum theatre was my favourite tool we learnt about! We did forum theatre on two different days. I didn't know about the method before. It was interesting to learn about the method, and to really do it. We used forum theatre to practice identifying situations of oppression and understanding the mechanisms of oppression and practising how to react in these situations. Creating our own plays and acting gave us ideas of what to do and what to say in these situations. It was very empowering to do that.
How was the experience personally?
We travelled for 30 hours from Sweden to Stuttgart, via ferry and train. The best part of this was just spending time with the youth and colleagues. We became a group and we got to spend time with one another and get to know each other in a non-hierarchical situation. On the way back, on the last night on the ferry, we were just playing games in the restaurant and people were looking at us, but we were just enjoying our time! Everyone came with an open mind, and everyone wanted to be there. Of course, it was a long journey and people got tired and that is normal, but from my point of view, it was really very nice.
How do you plan to build on your experience in the training?
Currently, I am planning a youth forum in a reception centre. This was already planned before the training, but the execution of the forum is now way clearer for me. The training was really useful in helping the planning of the forum because I got inspired and I hope that I can give the same feeling to the youth. I took the idea that the forum must be co-created equally, and I should only support this as the forum leader. We are working now on the idea of including youths in all steps of the process.
My colleague and I are also planning on giving a little workshop to our colleagues who were not there, just to share a little bit about our experience and lessons learnt.
Looking ahead
There will be a second training workshop in April 2023 in Borås, Sweden. Participants will have the opportunity, thanks to the first training, to function as trainers carrying out co-creative self-empowering activities to "new" NEETs and "new" staff members working with NEETs. The NEETs will, in this way, become the experts rather than the learners.
To find out more about the NEETs for NEETs project, follow #N4Neets on Twitter and LinkedIn, or on Instagram.