Go back
Individual Learning Accounts and Recovery and Resilience Facility at stake!
02/11/2021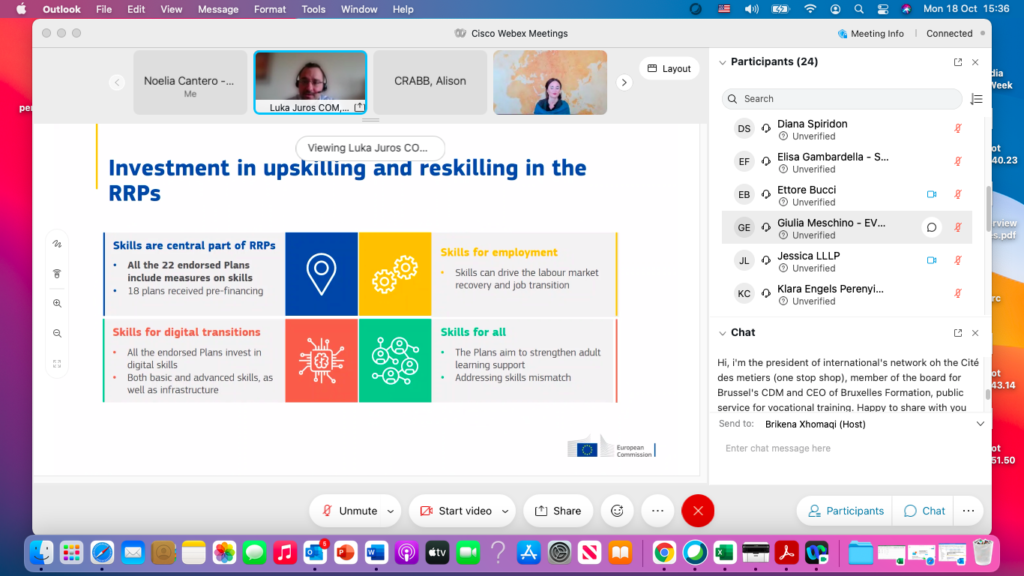 On 18 October 2021, EARLALL joined the Lifelong Learning Platform delegation in a meeting with representatives from DGEMPL. The online discussion gathered relevant stakeholders on lifelong learning, E&T and skills and focused on two main initiatives:
Individual Learning Accounts (ILA)
European Recovery and Resilience Facility : what's in for education and training
Participants from the EC included, among others, Alisson Crabb (Head of Unit, Skills) and Diana Spiridon (Head of Sector, ALE) who welcomed the participants and expressed their commitment to continue this exchange of information with civil society representatives.
Klara Engels (Skills Agenda – EMPL.B.2) introduced the ILA initiative. The Individual Learning Accounts will cover unemployed and atypical workers, in fact the ILAs are to be understood as a tool within the context of the labour market. This is because ILAs focus on labour market 'transitions' (i.e. Green and Digital), that's why the initiative looks at the working population. Attention is being paid to avoid complexity and over-bureaucratization of ILAs at Member State level, as the key design parameters to be determined by Member States as they are to choose a design that fits into already existing structures and set up.
Main considerations:
individual central to initiative;
modulate support for specific needs;
integration of financial and non-financial support (e.g. guidance, validation, digital portal).
The ILAs are just one measure among others trying to make lifelong learning a norm across the EU. Susana Oliveira, from EAEA, took the floor to share the LLLP concerns about the correct implementation of these ILAs.
Next, Luka Juros (European Semester, EMCO EMPL.F.1) shared some remarks and information about the European Recovery and Resilience facility. Luka mentioned that so far, 18 Member States have had their plans approved and pre-financing is happening for 13% of their plans. Twice a year Member States will ask for further instalments when certain targets and milestones specified in their national plans are achieved. Civil Society Organisations and other stakeholders, such as regions, are to be involved in the implementation of the National Recovery and Resilience Plans – participation is not limited solely to the consultations that were held. Concerning the lack of quality consultations with relevant stakeholders at national level the Commission is aware of the issue, however given the complexity of the new instrument and the strict timing, it is an understandable situation. The Commission does not have the mandate to sanction Member States for poor performance related to consultations for the plans. However, the EC recommends to analyse the plans in order to map investment in education and training and facilitate the monitoring of the implementation of the plans.
The Lifelong Learning Platform is currently undertaking a comparative analysis of the National Plans when it comes to education and training and EARLALL will share this study and main conclusions with its members as soon as it is available.
Useful documents