Go back
First EXAM 4.0 reports now available
19/04/2021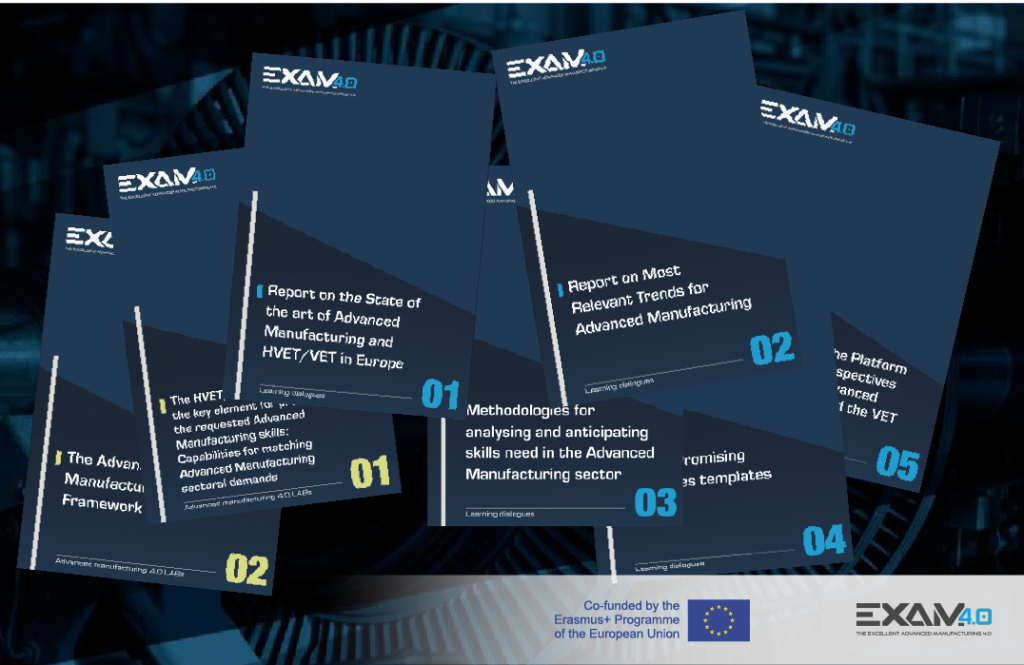 The EXAM 4.0 partnership has published a set of publications dealing with the "Learning Dialogues" and "EXAM 4.0 labs" project strands. The documents have been jointly produced by project partners and tackle key aspects of Industry 4.0, advanced manufacturing, skills and stakeholder engagement. They will provide the basis for the other project strands (EXAM 4.0 hub and VET 4.0 for advanced manufacturing), aimed at developing and implementing vocational excellence ecosystems in the advanced manufacturing sector.
A revision of the state of art regarding the Advanced Manufacturing (AM) sector and its links with the Vocational Education and Training (VET) and Higher Vocational Education and Training (HVET) systems in Europe has been carried out. Key research outputs are reports on this revision and insights into the key trends within the AM sector. Furthermore, methodologies for skills anticipation and analysis are provided, along with a list of promising practices and a declaration on the importance of cooperation to achieve a successful skills intelligence ecosystem.
On another note, a description is proposed for the HVET/VET centre 4.0 as a key element to provide the skills required by the AM industry. A model for describing institutions in a humble and time-efficient way has been developed to make it possible to compare and discuss institutional approaches. Moreover, a framework is offered to describe existing and future labs on which the HVET/VET centre 4.0 proposal is based.
All documents are now freely accessible in the project website (http://www.examhub.eu). Project partners will continue their work in the coming months to develop a cooperation platform model and facilitate the implementation of innovative LABs that foster learning and skills development.
Useful links