Go back
Cohesion 2.0: EARLALL at #EURegionsWeek, day 2
15/10/2020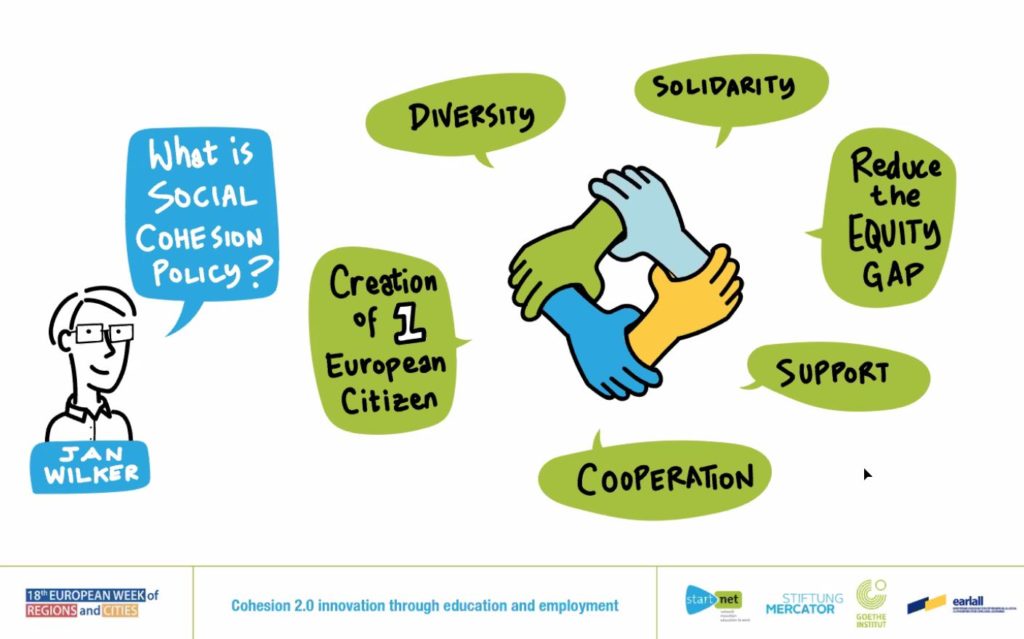 On 13 October 2020, EARLALL and the StartNet initiative by the Goethe Institut hosted a joint workshop in the context of the European Week of Regions & Cities to link inspiring regional practices with a European dimension in the fields of education and employment with current EU policy discussions regarding the MFF, the future of cohesion, educational, social and economic policies. The session and debate were moderated by Jan Wilker, StartNet project manager at Goethe Institut, and counted on a variety of views by the European Parliament (EU level), the University of Verona (academic perspective), the Principality of Asturias (regional level) and the City of Turku (local level). Key aspects from the presentations and the debate are presented below.
MEP Monica Semedo underlined that "cohesion means solidarity and support, as well as diversity," as "each region and city need different support." She pointed out that "everything is connected, especially education, social matters and employment," and highlighted the need of equal opportunities for everybody, since "life is not like a highway […]. People might need a second change, and they should get it." MEP Semedo highlighted the European Youth Guarantee as a key initiative to support the education and youth sectors, with a focus on social aspects beyond economic and statistical ones.
From an academic perspective, Marcella Milana, Associate Professor at the University of Verona, looked into social cohesion as a three-level concept, based on the individual, the community and social institutions. These three levels are interconnected and are interdependent. However, research lacks about the institutional one. She indicated that "individuals can only actively take part in the group if public laws, regulations, laws and values allow them to do so." She also introduced the ENLIVEN project (Horizon 2020) through which lifelong learning was researched.
| | | |
| --- | --- | --- |
|  MEP Monica Semedo | Matti Mäkelä | José M. Secades García |
Hands-on experience was provided by Matti Mäkelä, Head of the Project Management Office at the City of Turku, and José M. Secades García, Teacher & Head of Department, Caudal Adult Education Centre (Principality of Asturias). Mr. Mäkelä introduced the STEAM Turku project, aimed at promoting the science and technology path in school and secondary education, as well as Vocational Education and Training (VET). The need for such a project came from the challenge of talent attraction in the field of technology in the Turku area, and builds on three main pillars: participation, openess and innovativeness.
On another note, focusing on adult education, Mr. Secades presented the Key Competences Programme in the region of Asturias, which faces a challenge of depopulation and decrease of the labour force. A need for education programmes that lead to a higher level of social cohesion has been identified in the region, and the Key Competences Programme aims at bridging that gap through the action of adult education centres.
Presentations
Useful links