Go back
Boost your CLIL in VET! European conference was held online
08/03/2021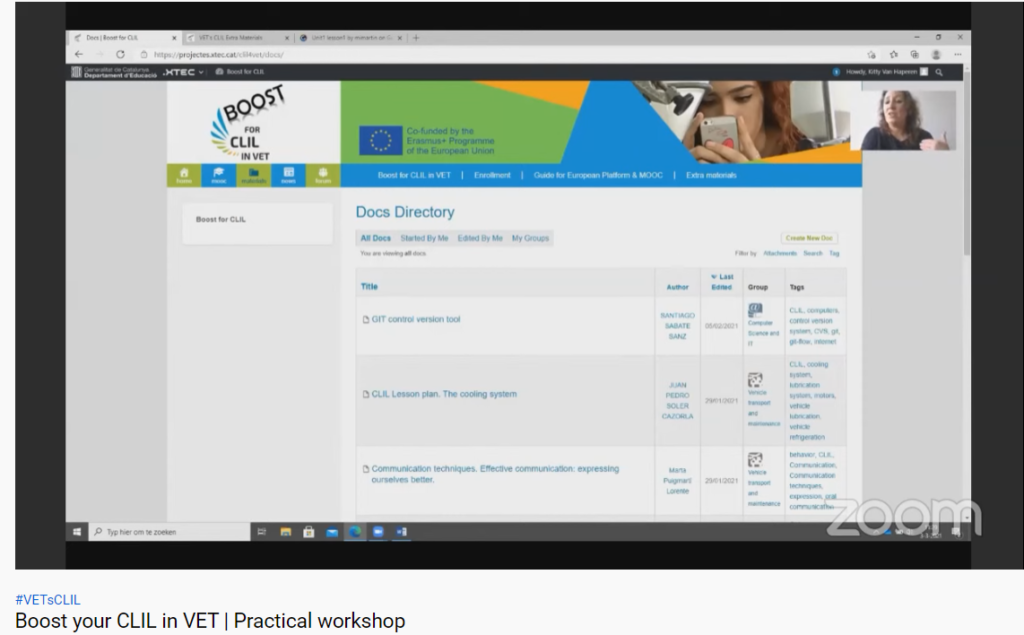 The VET's CLIL partnership (Erasmus+ KA2) introduced their achievements within this innovative project aimed at introducing the CLIL methodology in VET at an online conference held on 3 March 2021. The event was jointly hosted by Provinciaal Onderwijs Vlaanderen (POV), project coordinator, and EARLALL. It consisted of an expert conference on the benefits of content and language integrated learning (CLIL) and Vocational Education and Training (VET), followed by a practical workshop. A very engaged audience took actively part in it, and both expert presentations and on-hands training were provided.
The conference was welcomed by Griet Mathieu, Director at POV: "What brought [the project partnership] together was our interest in Vocational Education and Training (VET) pupils and our commitment to provide them with the best possible future prospects." Her opening words were followed by a lively introduction to the CLIL methodology by Amanda van Dijk-van 't Noorende, CLIL teacher trainer and researcher at the NHL Stenden University College. "A young child learns a word by seeing, smelling, hearing and experiencing what the word means […] Language is all about the meaning that is given to it," explained Ms. van Dijk-van 't Noorende. "CLIL education is not just about learning a second language: it not only activates languages but it also activates ideas, and it does so by engaging students with content they already know and linking into new knowledge while improving skills both conciously and inconciously," she continued.
| | | |
| --- | --- | --- |
| Griet Mathieu | Amanda van Dijk-van t' Noorende | Oana Felecan |
From an institutional perspective, Oana Felecan, Policy Officer at the European Commission's Directorate General for Education, Youth, Sport and Culture (DG EAC), presented key initiatives by the European Union to foster language learning. The goal set by the Commission is for young people to be able to fully use the language of schooling, fully use another European language and confidently use a third language at the end of upper secondary school. In order to achieve it, the new Erasmus+ programme (2021-2027) will offer opportunities to educational institutions to implement their own projects. Furthermore, recent publications by the Commission compile best practices in language learning and Erasmus+, such as the Compendium of 2019 European Language Label Projects and the Building language competences for Europe leaflet.
Last but not least, Maria Pascual, Head of Unit at Catalonia's Department of Education, introduced the achievements made by the VET's CLIL project, which has produced a MOOC for VET teachers, a European forum and a European platform. Her presentation was followed by a video with examples of best practices in implementing the project at partner organisations, as well as experiences from both teachers and students in the Basque Country, Catalonia, Seinäjoki and Flanders.
After the conference, a practical workshop was hosted by Kitty van Haperen (teacher at Da Vinci College in Dordrecht) and Kaat van Hoecke (CLIL teacher trainer at POV). They introduced they main features and opportunities offered by the VET's CLIL MOOC, and solved questions from the audience regarding the CLIL methodology, the course and its applications.
Conference presentations
Useful links