Go back
Skills & Labour Market
Skills anticipation has emerged as a key policy response to combat skills mismatch in the labour market. The EC's New Skills Agenda for Europe stresses it and endorses the collection of skills intelligence to inform training and growth strategies. Education and training provision at regional and local level needs to adapt fast to the rapidly changing skills needs identified. This is obviously a process which varies significantly across EU regions. The experience in developing skills anticipation and skills adaptation strategies at regional level present numerous concerns and challenges.
Cedefop refers to it as 'SKILLS GOVERNANCE': The process of putting in place appropriate institutional structures (intermediary, formal or informal, skills bodies), operational processes (regulation, management, financial and non-financial incentives) and dissemination channels (online or offline platforms) that may facilitate stakeholder interaction and policy reaction based on reliable labour market information signals.
Specific Sectors and Market Needs
Industry 4.0: Automation in Manufacturing Technologies (cyber-physical systems, the Internet of things, cloud computing and cognitive computing)
Soft skills for the workplace (communication skills, creative and critical thinking, problem-solving, resourcefulness, confidence, flexibility)
Main Challenges and Objectives
More employability of students and apprentices.
More implication of the companies in each region.
Innovation and improvement of students' competencies and training paths.
Creation of a more global market place.
Gender equality in the labour market.
More mobile workers.
Concerns
The rapidly changing markets.
The needs not to be the same for all regions.
Not the same degree of implication on the project by all the participating regions.
Change of staff in each institution.
Recent activities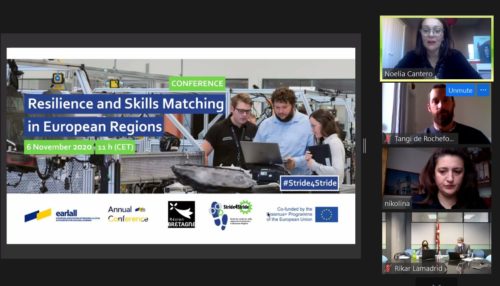 Stride4Stride (#S4Stride) project, co-funded by the Erasmus+ programme of the European Union, running from November 2020 to October 2022.
Building Resilient Skills Ecosystems, joint initiative with the Mobility WG, launched in May 2020.
Stride4Stride conference in Brussels: Regional representatives gathered in Brussels to share their numerous concerns and challenges regarding "skills governance." Education and training provision is required a fast adaptation to the rapidly changing skill needs, identified through a survey that was carried out in the context of EARLALL in spring 2018. This conference provided an open forum for European regions to present their needs and find innovative solutions to them.