Go back
What is the role of regional and local authorities in the Recovery and Resilience Plans? New factsheet
31/08/2021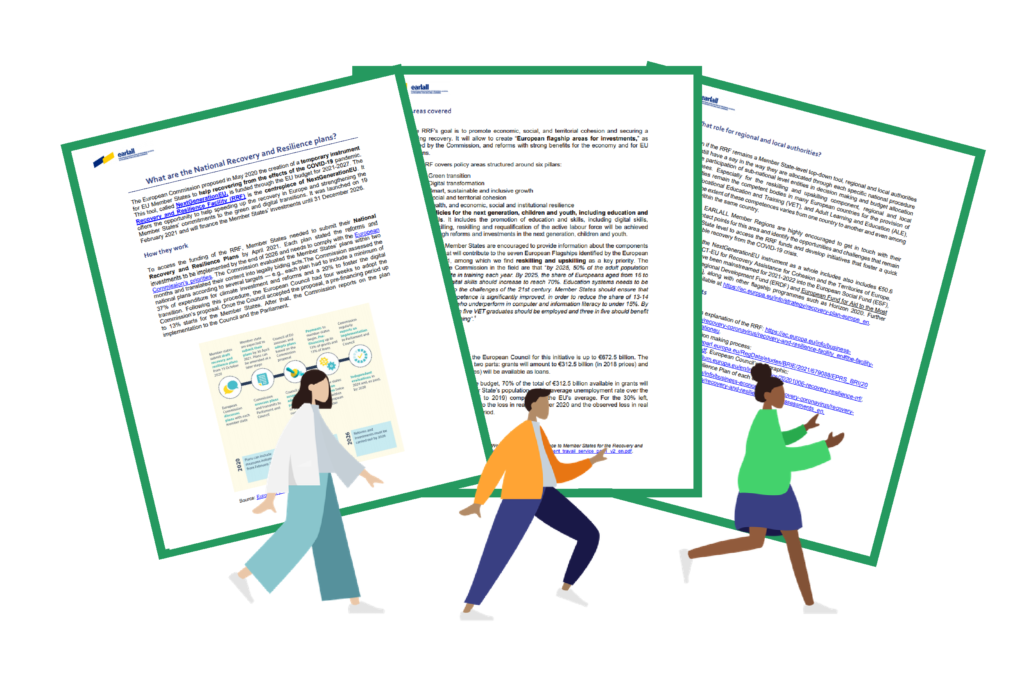 In May 2020, the European Commission created a temporary instrument called NextGenerationEU to help EU Member States to recover from the effects of the COVID-19 pandemic. EARLALL has been following closely the development of this tool, and produced a factsheet about it to facilitate the understanding of its effects on education and training policies at regional and local level. NextGenerationEU is funded through the EU budget 2021-2027, and the Recovery and Resilience Facility (RFF) is its centrepiece.
Paolo Gentiloni, Commissioner for Economy declared when the European Parliament voted in favor of the RRF: "We have done something that was unthinkable just one year ago: the creation of a common instrument, funded by common debt, to achieve a common goal. For several months the Commission has been working hard with governments as they draw up their recovery and resilience plans. Now we must all intensify our efforts and make sure we seize this unique opportunity to change our economies, for the common good of all Europeans."
To access the funding of the Recovery and Resilience Facility, Member States needed to submit their National Recovery and Resilience Plans by April 2021. They were encouraged to provide information on reskilling and upskilling in their plans, on which regional and local authorities remain the competent bodies in many European countries.
Useful links
Factsheet on the Recovery and Resilience Plan