Go back
Smart Specialisation Skills Ecosystems for the Twin Transition: New Interreg Europe project kicks off!
22/05/2023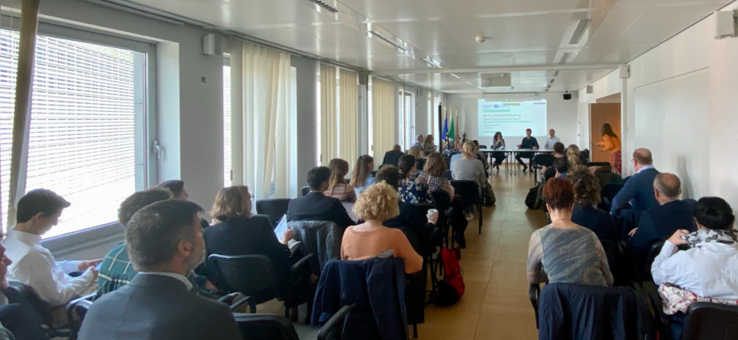 On 15-16 May 2023, EARLALL hosted the kickoff to the new Interreg Europe project SKYLA: Smart Specialisation Skills Ecosystems for the Twin Transition, at the Regional Government of Tuscany Brussels Office. The SKYLA project seeks to support public authorities in putting future skills at the centre of the twin transitions for a smarter, more resilient development, by boosting and adapting the role of VET in innovation ecosystems and smart specialisation strategies. It is led by the Agency for the development of the Empolese Valdelsa, Tuscany, in consortium with 11 partners across 8 regions in the European Union.
In order to set a context to the project seeking to build the skills of the future, the kickoff opened on May 16 with a hybrid seminar on 'Skills for the Twin Transition' that welcomed 50 participants online and in-person. Felix Rohn, Policy Officer in Adult Skills in DG EMPL, European Commission, started the discussion by presenting the European Skills Agenda – both the European Year of Skills and the Regional element of the Pact for Skills initiative.
This presentation was followed by a discussion on innovation in adult learning in the context of regional smart specialisation strategies. Guia Bianchi, Economic and Policy Analyst, Innovation Policies and Impact, Joint Research Centre spoke about the Partnerships for Regional Innovation initiative. It aims to build on Smart Specialisation (S3) strategies and is anchored in an EU policy framework, with the goal of accelerating the twin transition.
Moreover, Dr. Lukas Kleine-Rueschkamp, coordinator of local labour market analysis at the OECD, presented the report on 'Bridging the Great Green Divide'. He highlighted the challenges and strategies to engage adult learning systems at the local level to enable a green future and underlined the importance of effective collaboration across various stakeholders.
Finally, Andreas Larsson, Regional manager of the managing authority of the ESF+ programme in the southernmost region of Sweden, presented the ESF+ instrument and practical cases where skills for the twin transition have been supported.
The afternoon of the same day as well as the morning of May 16 allowed partners to discuss their policy needs and their strengths and weaknesses coming into the project. The first steering committee set the tone for the collaborative, interregional approach of the project.
You can soon follow the updates of the SKYLA project at interregeurope.eu/skyla.
Find the presentations from all the speakers here.