Go back
Second European Education Summit: The Importance of Teaching
30/09/2019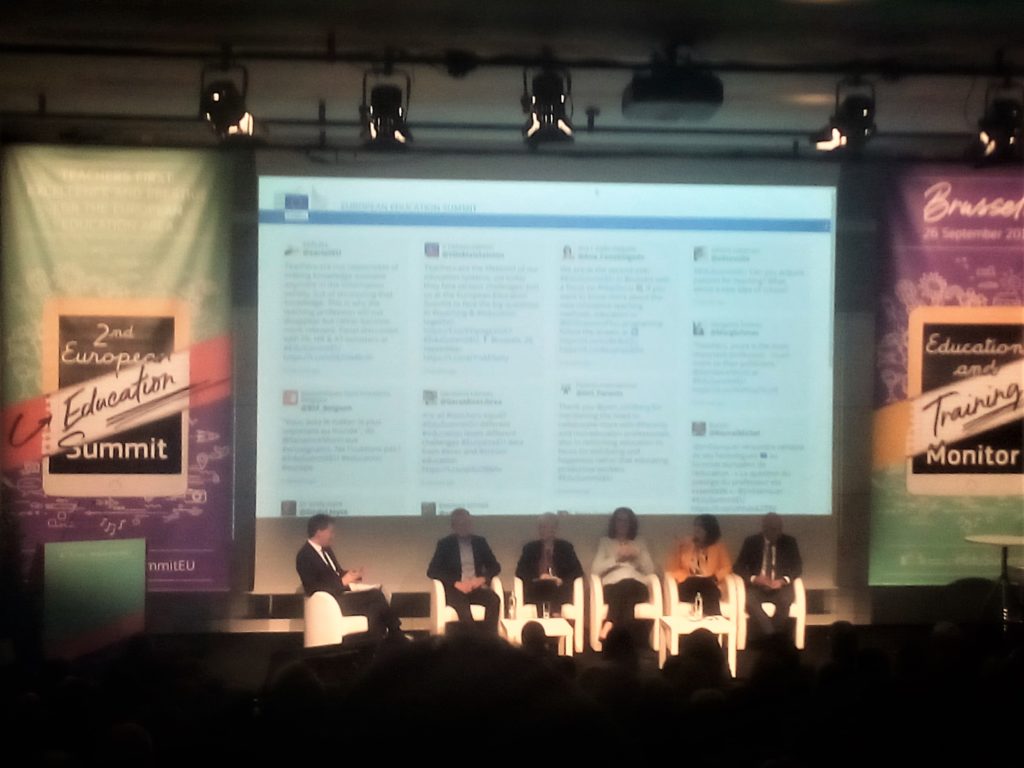 The Second European Education Summit took place in Brussels on 26 September 2019. A total of 800 participants, including 19 Education Ministers and more than 160 teachers, gathered in the heart of the EU capital discuss about the role that education and teaching will have in the society of the future. As Tibor Navracsics , European Commissioner for Education and Culture, pointed out in his welcoming, speech, even if "education systems remain national, borders are more permeable now." He also stressed the importance of the Erasmus+ programme, which "has given the European dimension a human face," and highlighted the role of teachers (being a teacher himself), who are the "cornerstone of teaching centres, and not just a brick in the wall."
Interventions followed by Mario Monti, former Prime Minister of Italy and Commissioner, who underlined the role of education as key driver for social mobility, being more than mere knowledge transfer, and Christoph Schiebold, Global Teacher Prize winner, who introduced his own lifelong learning experience as a Montessori school teacher with multiple sclerosis.
Afterwards, Li Anderson, Education Minister of Finland, reminded of the need of making sure that education stays on top of the EU political agenda now that it has finally risen to it. High-level panels followed during the day, featuring national ministers of education and experts on topics such as the teaching profession, ICT subjects and skills, and language learning.
Education & Training Monitor 2019
During one of his interventions, Commissioner Navracsics introduced the European Education & Training Monitor 2019, a publication that analyses EU's Member States education and training achievements. This year's edition focuses on teachers, as they are "the factor having the strongest impact on students' learning within the school environment."
Featuring 28 country-specific reports, this is the most ambitious yearly publication about education in the EU. This year, we are glad to announce that the Basque Country (EARLALL Presidency) is featured in the report, with an avant-garde Vocational Education & Training Law, passed in June 2018.
EARLALL at the Summit
EARLALL Secretariat was also present at the Summit, as well as a delegation of the Basque Country (EARLALL Presidency). The Basque Regional Vice-Minister for VET, Jorge Arévalo, took part in a high-level panel dealing with Vocational Excellence, along with Shyamal Majumdar (UNESCO-UNEVOC), Adrijana Hodak (EUproVET), and Pieter de Jong (Wetsus and WaterCampus). The summit also counted on the attendance of Cristina Uriarte, Basque Regional Minister for Education.
Useful Links
Jorge Arévalo, Shyamal Majumdar, Adrijana Hodak, and Pieter de Jong

João Santos introduces VET Excellence

Tibor Navracsics presents the Education & Training Monitor 2019