Go back
Region Västra Götaland awarded with three European important prizes in 2021
06/12/2021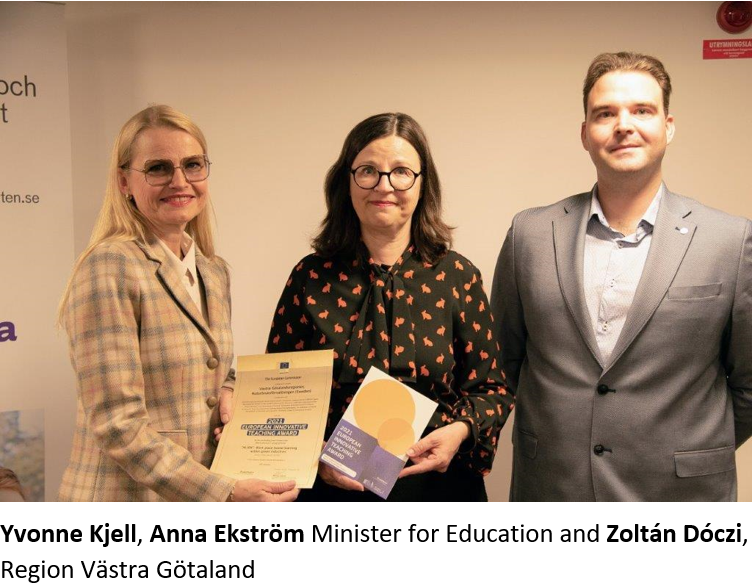 It has been a rather successful year for the region and its stakeholders in terms of recognition at European level. Many congratulations to the winners for their outstanding achievements in 2021. EARLALL hopes that you will continue to excel in 2022!
A brief overview of the region's 2021 awards:
European Innovative Teaching Award 2021
One of the Swedish winners of the European Innovative Teaching Award 2021 is the Department of Natural Resources in Region Västra Götaland. "I am very pleased to represent Vocational Education and Training (VET) and I am especially proud of the excellent work in our organisation, says Director Yvonne Kjell.
The new policy initiative from the European Commission was launched during the autumn this year. The aim is to highlight teachers and their innovative teaching practices. One of the objectives is to show the value of Erasmus+ to European teacher and to collaborate through transnational activities and the creation of the European Education Area. For more information, please contact Yvonne Kjell, yvonne.kjell@vgregion.se
Adult Education Partille is awarded the "European Language Label"
Adult Education Partille, Region Västra Götaland was awarded with the "European Language Label" for their pilot project with the purpose to develop VET (Vocational Education and Training) Integrated Language Learning for immigrant learners. Principals and heads of Adult Education in the Gothenburg Region initiated the project. "The aim has been to strengthen the progression of the learners and their ability to overcome language barriers in the workplace through integrated learning and strengthened the link between the school-based and work-based learning", said Principal Nomi Madolo. For more information please contact Principal Nomi Madolo, nomi.madolo@partille.se
BEGIN project wins the REGIOSTARS Public Choice Award
The city of Gothenburg is partner in the Interreg North Sea funded project BEGIN (Blue Green Infrastructures through Social Innovation) that was awarded the REGIOSTARS Public Choice prize on 2 December 2021. The overall objective of BEGIN is to demonstrate at target sites how cities can improve climate resilience with Blue Green Infrastructure involving stakeholders in a value-based decision- making process to overcome its current implementation barriers. Partners include regions, cities and organisations in Belgium, The Netherlands, Norway and the United Kingdom apart from Sweden.
For five years BEGIN has been working tremendously hard to tackle the consequences of climate change with blue-green infrastructure solutions through social innovation – co-created with citizens across our 10 participating cities. This ensures added benefits such as improved human health and new spaces for wildlife to thrive in the city. BEGIN has delivered over 30 pilots with a flood risk reduction of around 30% and our partners have calculated that these actions will provide benefits worth €350 million over the next twenty years!
Useful documents