Go back
New mobility and cooperation opportunities at stake!
17/05/2022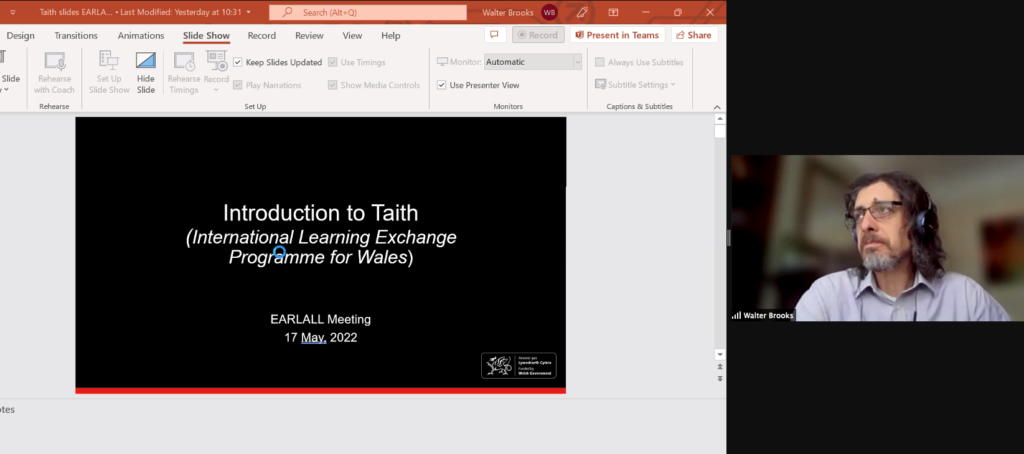 On 17 May 2022, EARLALL Mobility Working Group held its second meeting of the year. The Working Group has two new co-chairs: Astrid Burhoi, Region Västra Götaland and Yvonne Jänchen, Movetia (Switzerland). Participants from Catalonia, Wales and Italy gathered to discuss new mobility and cooperation opportunities.
Yvonne Jänchen opened the meeting and welcomed the participants. She expressed her willingness to be leading the activities of the Working Group together with Astrid Burhoi and highlighted the fact that mobility is key to promote internationalization and lifelong learning among EARLALL members and its education providers.
The Taith Programme – Wales' new international learning exchange programme was then presented by Walter Brooks, Programme Manager, Further education, Vocational and Adult Education. Mr Brooks highlighted that Taith – meaning 'journey' in Welsh will begin to support mobility to and from Wales from September 2022. It offers opportunities for learners, educators and administrators across the education sector (VET, adult learning and youth initiatives are included) to come to Wales and for the welsh learners, educators and administrators to have international mobility opportunities. It is a multi-annual programme that will initially run from 2022 to 2026 and will focus on supporting mobility with the rest of Europe although it will enable global mobility. To maintain the many links supported by Erasmus and to enable new connections to be made the Welsh Government announced in March 2021 that it would establish a new international learning exchange programme with an investment of €75m/ £65 million over four years. The programme, apart from Mobility (Pathway 1), also includes Partnerships (Pathway 2) and Capacity Building actions (Pathway 3).
Switzerland is in a comparable situation to the Wales' international education context. Yvonne Jänchen presented the Swiss support to education stakeholders to participate in mobility and cooperation projects through Movetia. The initiative has been running since 2016 and covers all education sectors. The Movetia programmes have a similar structure to the Eramus+ one to allow synergies and to facilitate European partners' understanding about the initiatives. Seven projects in the VET sector will be funded in 2022. The main challenges for Movetia are to mobilise the Swiss providers and motivate them to take part in joint projects with European peers.
At the end of the meeting, Yvonne Jänchen announced the date for the next Mobility Working Group meeting (Monday 27 June at noon) and anticipated some of the main items to be discussed, such as an action plan for 2022 to 2024 (including a mobility matchmaking tool, discussions on impact and evaluation of mobility, promotion of mobility among education providers in Europe, state of arts for the VET sector in EARLALL member regions, etc). For the meeting in June, the working group is also planning to have a presentation from Catalonia's mobility activities, from both the Department of Education and the one of Employment. Clara Ribera, Department of Employment, regional government of Calonia, announced that the institution has been awarded with a project to support the mobility of unemployed citizens and workers in need of upskilling/reskilling to have an international experience. The Department counts with a network of around 30 organisations in Catalonia and would be pleased to set up agreements with hosting organisations in Europe.
Noelia Cantero ended the meeting by reminding participants of a series of events that will take place in the upcoming weeks heading to the summer and that are organised by EARLALL or by its members.
Useful documents
About Taith
About Movetia's mobility programme