Go back
Lifelong Learning and Skills at the forefront of the EU Social Forum
18/11/2022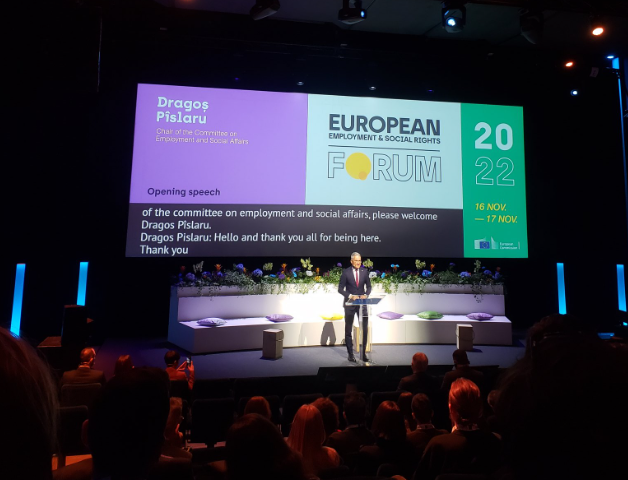 The inaugural European Employment & Social Rights Forum ( EU Social Forum) was organised by the Directorate-General for Employment, Social Affairs and Inclusion of the European Commission on 16-17 November in Brussels. The Forum was hosted around the theme 'the social dimension of the green transition, answering the question 'How can the green transition also be a just one?'
The Forum was opened by a video speech from the President of the European Commission, Ursula von der Leyen, highlighting the importance of 2023 as the European Year Of Skills in the just and green transition that Europe will face in the coming years. Von der Leyen emphasised the importance of the Pact For Skills partnership – which EARLALL joined as a member last year – in order to 'keep pace with the changing world of work.'
Nicolas Schmit, European Commissioner for Jobs and Social Rights discussed the Social Dimension of the Green Dimension with representatives from social partners such as Monica Verzola, Vice-President of the Lifelong Learning Platform, Lorenzo Giornelli – Cooperative CERAMICHE NOI, Member of Board and Director, María Rodríguez Alcázar – European Youth Forum, Board Member. Verzola, on behalf of the Lifelong Learning Platform, asked the Commissioner 'how can we ensure a lifelong learning mindset?', to which he confirmed that 'lifelong learning should be part of our every day" and pushed the idea of the individual learning accounts and micro-credentials.
The Forum was the occasion to celebrate the 5th Anniversary of the European Pillar of Social Rights. To mark this date, the former President of the European Commission, Jean-Claude Juncker, discussed the 20 principles of the Pillar, the first being related to 'education, training and life-long learning. Juncker stressed three key points to reach the Pillar targets "patience, determination and conviction."
The Pact for Skills was at the core of the programme as this month celebrates its second anniversary with a remarkable milestone: 1000 members have joined the Pact, counting with EARLALL since last year.
The second day was focused on discussing with social partners how to implement fair transition actions. Three parallel sessions were organised around the 2022 Employment and Social Developments in Europe report (ESDE) results; caring economy and concrete examples of how to build a fair twin transition.
Andriana Sukova, Deputy Director-General for Employment, Social Affairs and Inclusion, concluded this first edition of the EU Social Forum stressing the importance that this fair transition should be for all, not leaving none behind.
Next year edition will take place in the context of the European Year of Skills and EARLALL will once again participate and contribute to this key event.