Go back
LCAMP second partners meeting in Toulouse
25/01/2023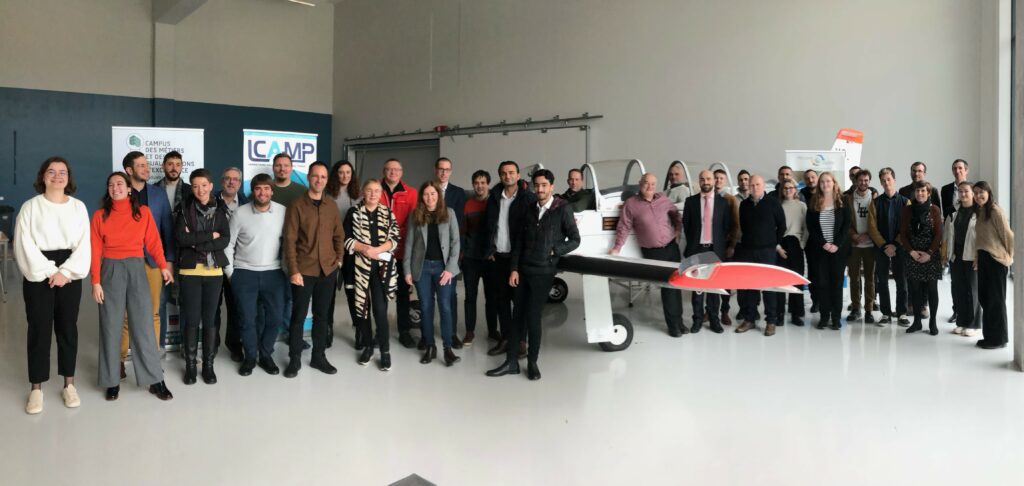 The Learner Centric Advanced Manufacturing Platform for Centre of Vocational Excellence (CoVEs) – LCAMP – project meeting took place on 17-18 January in Toulouse (France). The LCAMP project aims to support and empower regional Advanced Manufacturing for  Centres of Vocational Excellence to become more resilient, innovative and better equipped to train, upskill, and reskill young and adult students to successfully face the digital and green transitions.
LCAMP partners met for the second time since the EU-funded project kicked off in 2022. Over the two days, project partners met in Toulouse at the Maison de la Formation Jacqueline Auriol, a regional Training / Research / Innovation and Technology Transfer Centre, hosted by partner Mécanic Vallé in cooperation with Campus des métiers et des qualifications d'excellence.
LCAMP Work Package Workshops
During the meeting, partners learnt about the progress of nine of the Work Packages in the project and collaborated on the next stages for each one. Students from the Telco-Mines Schools Albi-Carmaux (France) were also invited to present their insights about how the future Observatory (WP3) could look and match students' expectations.
The first day was closed with a brainstorming session on how to define the qualifications, respective skills, and competencies needed for the digital transformation towards Industry 5.0 (WP5, led by DHBW). Partners worked to provide the initial data collection of qualifications, training offers and Micro-credentials for Advanced Manufacturing, which will be used to pilot the future LCAMP platform.
On the second day, partners contributed to the first steps to set up factory labs (WP6, led by VET centre Miguel Altuna) and the final Platform (WP8, led by KIC) for advanced manufacturing training.
EARLALL also hosted a workshop on the updates of the LCAMP Alliance (WP2) and Dissemination Activities (WP8) that they are responsible for. The Alliance will be one of the initial milestones of the project, as a network of VET centres, research centres, relevant organisations and SMEs involved in Advanced Manufacturing. As the Alliance grows, it will sign cooperation agreements with other networks and organisations.
Aerospace Valley cluster
Within the spirit of the Alliance to expand LCAMP collaboration to other sectors and EU Projects, partners had the opportunity to learn more about the work of the Aerospace Valley cluster. The actions of the Aerospace Valley are related to LCAMP's goals to support and empower regional Advanced Manufacturing VET-SME ecosystems to become better equipped to train and upskill students to face the twin transition.
Next Stages in LCAMP
The next project meeting will be hosted bythe Kocaeli Provincial Directorate of National Education (Kocaeli, Turkey) in June 2023.
EARLALL, as the Dissemination and Communication Partner, invites all interested parties to follow LCAMP activities via its social media channels (Twitter and LinkedIn), website or by subscribing to the recently launched newsletter.