Go back
LCAMP: Learner-Centric Advanced Manufacturing Platform for Centre of Vocational Excellence (CovEs) launches its website
08/11/2022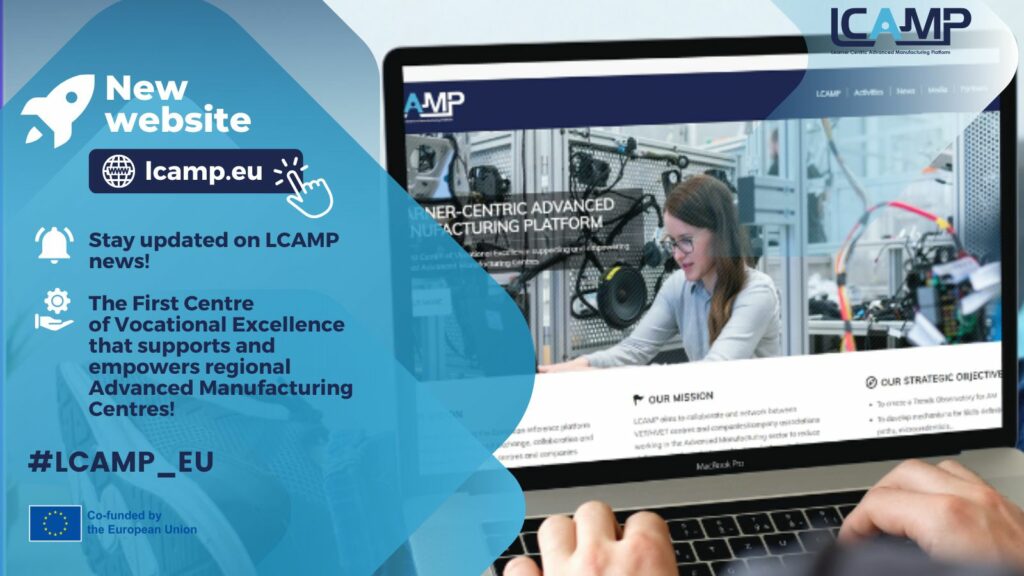 The LCAMP: Learner Centric Advanced Manufacturing Platform for Centre of Vocational Excellence (CovEs) EU-Cofounded project is pleased to announce the launch of its website ( https://lcamp.eu/), after many months of hard work and dedication from our consortium partners.
The LCAMP project aims to support and empower regional Advanced Manufacturing for the Centre of Vocational Excellence to become more resilient, innovative and better equipped to train, upskill, and reskill young and adult students to successfully face the digital and green transitions. Furthermore, LCAMP supports regions to grow and be more competitive through their VET systems. The LCAMP consortium is composed of 20 full partners from 10 countries, of which 9 are educational organisations, 7 are industrial companies and 4 are VET and industrial associations. The consortium is also supported by 60 associated partners.
The website has been developed by EARLALL – European Association of Regional & Local Authorities for Lifelong Learning, as dissemination and communications project leader, and KIC (Knowledge Innovation Centre from Slovenia), in close collaboration with consortium partners.
In this context, LCAMP's website is a non-stop online access which will be linked to the future Advanced Manufacturing Excellence Discovery Platform. General audience, public authorities, VET Centres, individual learners, students and lifelong learning learners, SMEs, large companies and industry associations will find interesting articles on the future Advanced Manufacturing and LCAMP's activities updates such as the launch of skills and jobs observatory, an open innovation community, a learner-centre training, a collaborative learning factory and opportunities to connect between SMEs and Vocational Education and Training sectors at the regional level. What's more, through LCAMP's website they will find all the necessary information on how to join the first Learner Centric Advanced Manufacturing CoVEs Alliance in the coming year.
Keep up to date on our latest workshops, seminars/webinars and Advanced Manufacturing excellence announcements in our news section. Furthermore, if you would like to receive news directly in your inbox, don't forget to subscribe to our newsletter.
For more information, visit https://lcamp.eu/