Go back
From FIER to Europe: FIER Final Conference in Brussels
26/11/2019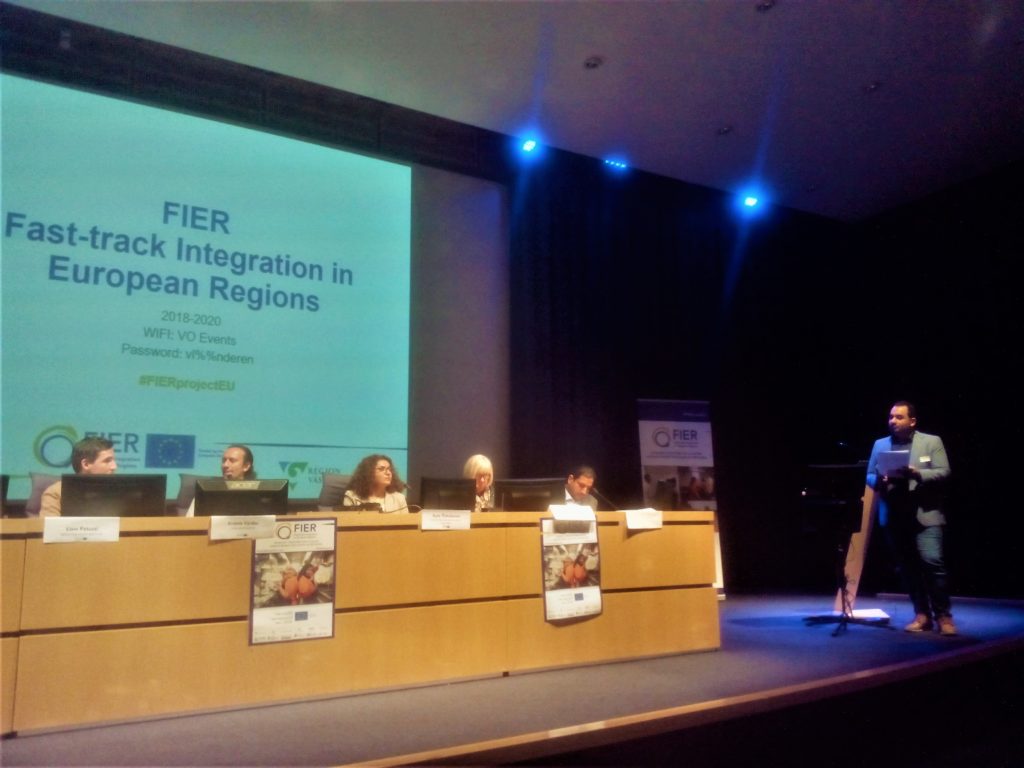 The FIER project, funded by the European Union (EaSI PROGRESS axis), is coming to an end in December 2019, and project partners had the chance to present their achievements to a European audience in Brussels. More than one hundred people gathered at the Flemish Ministry of Education on 19 November 2019 to listen to what experienced panelists had to share about integration processes and access to labour market for refugees. A marketplace was also arranged so conference participants could get a better insight into the project's individual experiences and obtain further information about all the activities that have taken part in Sweden, Austria, Belgium, Germany, Norway and Turkey. The event was jointly organised by EARLALL, GO! onderwijs van de Vlaamse Gemeenschap and the FIER project consortium, and kicked-off EARLALL's Annual Conference 2019.
FIER Conference: achievements and projections
The conference was introduced by Mr. Anders Carlberg (Head of Unit for R&D and Education at Region Västra Götaland) and Ms. Raymonda Verdyk (Managing Director at GO! onderwijs van de Vlaamse Gemeenschap), who higlighted how working can make one feel valuable in society. As Ms. Verdyk stated, it is important to provide the skills needed not only for labour market purposes but also for life.
Remarks about the European Union's policies and funding opportunities were made by Mr. Dominique Bé (Senior Policy Officer at European Commission's DG EMPL). He reminded of the importance of a lifelong learning approach, since "inclusion begins at kindergarten," and offered some insights into the next funding programme period 2021-2027, with a renovated European Social Fund (ESF+).
Afterwards, Ms. Therese Ydrén (FIER project coordinator, Region Västra Götaland) explained how FIER has reached more than 2,000 refugees, having the initial project target been 1,000. The 23 sub-projects that have been developed under the FIER umbrella have made this possible, testing new methods for the integration of third-country nationals into European labour markets. One of the key success factors was the focus on working with refugees and not for them, empowering them to have an active role and providing fast-track combined language and vocational skills courses.
Ms. Raymonda Verdyk

Mr. Anders Carlberg

Ms. Therese Ydrén
A keynote speech followed featuring Ms. Farah Laporte, coordinator of Refu Interim Belgium, who provided examples of how refugee integration is done in Belgium and offered a context for further implementation of projects such as FIER. A panel discussion was the icing on the cake for the first part of the morning, featuring interventions by project partners Ms. Charlotte Day (Västra Götaland folk high schools), Ms. Ayse Özbabacan (Office for Integration Policy Stuttgart), Mr. Erdem Vardar (YUVA Association), and Mr. Bilal Almobarak (Support Group Network), along with the migration expert Mr. Liam Patuzzi (Migration Policy Institute Europe), who offered his views on the project. The discussion was moderated by Adnan Abdul Ghani (Support Group Network), who is an associate partner in FIER and an active promoter of refugee empowerment.
During the second half of the morning, Ms. Lotte Michielsen ( Project Manager at GO! onderwijs van de Vlaamse Gemeenschap) introduced the active citizenship in reception education learning path, which has been developed under FIER. The path is made up of four key axes: communication, philosophy, sustainable coexistence and work-oriented competences (more information available here). Final remarks were made by Mr. Anders Carlber, who encouraged project partners and conference participants to keep up the good work to make European regions more inclusive.
FIER Marketplace: exchange and further cooperation
Project partners offered detailed information about each individual activity that has been developed during the past two years under the FIER umbrella in six countries. Partner tables were displayed at the conference venue, and a lot of interest was raised among participants, enabling opportunities for further cooperation and implementation of FIER pilot activities, training courses and learning models.
Useful links