Go back
Project Matchmaking at Norway House
Organised by: Hordaland County Council, West Norway Office and EARLALL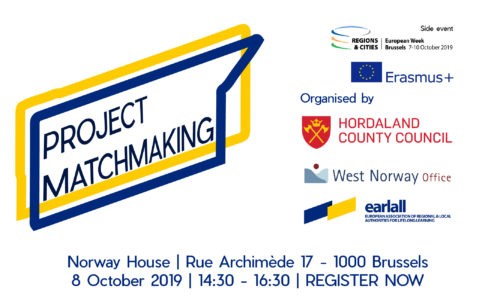 Five Norwegian municipalities in search for the ideal partners to make their Erasmus+ project ideas a reality will introduce their international initiatives for regional and local development in the fields of education, training and youth.
Five simultaneous workshops will take place during which project ideas will be presented. Potential partners will be able to introduce themselves and contribute to project development, eventually building an international consortium to submit a project proposal* under Erasmus+ KA1, KA2 and KA3 (funding action specified in each proposals' description). The event is aimed at other European municipalities, but also at other stakeholders that wish to take part in the projects. Does this sound as a good opportunity for your organisation? Then join Project Matchmaking!
Please find below the project ideas to be showcased:
If your organisation has a specific interest in any of these ideas… what are you waiting for? Register now and join an interactive Project Matchmaking session in the context of a vibrant European Week of Regions & Cities in Brussels!
Please note that a maximum of two project ideas can be selected by each attendant due to practical aspects. As further commitment is expected from participants, a brief motivation statement will be required during the registration process. Deadline for registration: 4 October 2019.
*This is a networking event for project development and partner matchmaking. Therefore, its organisers may not be liable for the funding selection process, which is carried out by the Erasmus+ responsible bodies, who are not related by any means to the organisation of Project Matchmaking. Please bear in mind that the proposed projects might not eventually be selected for funding according to NAs' and EACEA's decisions.