Go back
Boost your CLIL in VET! European Conference
Organised by: EARLALL, POV and VET's CLIL partnership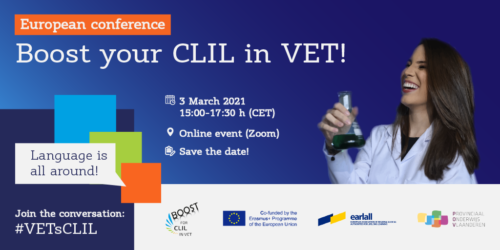 The introduction of the Content and Language Integrated Learning (CLIL) methodology in Vocational Education and Training (VET) can have numerous benefits. From student engagement to an enhanced capacity to work in multilingual contexts, the impact of implementing such an approach in fostering foreign language acquisition in VET can be ground-breaking in the field of language learning.
The "Boost your CLIL in VET" European conference will bring together experts in the field and key stakeholders, marking a turning point for CLIL and its application to different education areas. The event will be divided into two parts, allowing intellectual reflection and exchange among experts, as well as a practical approach for teachers who wish to implement the methodology.
15:00 – 16:00 h. Innovation from within: a European approach to CLIL and VET
16:15 – 17:30 h. Hands-on training: the VET's CLIL MOOC for teachers and language trainers
Further details about each part will be available soon.
This event is a key milestone within the VET's CLIL project. During the past two years, this project has focused on teachers as key enablers of such a disruptive change, providing training materials to them and empowering them to foster CLIL as a tool that boosts language learning in VET. It is the result of the work carried out by six partners from four European countries (Belgium, Finland, Netherlands and Spain) under the leadership of Provinciaal Onderwijs Vlaanderen (Flanders, Belgium). A fully functional MOOC for VET teachers is now available, gathering a community of engaged language teachers from all around Europe.