Go back
Education and Training at stake during the Lifelong Learning Week
02/12/2022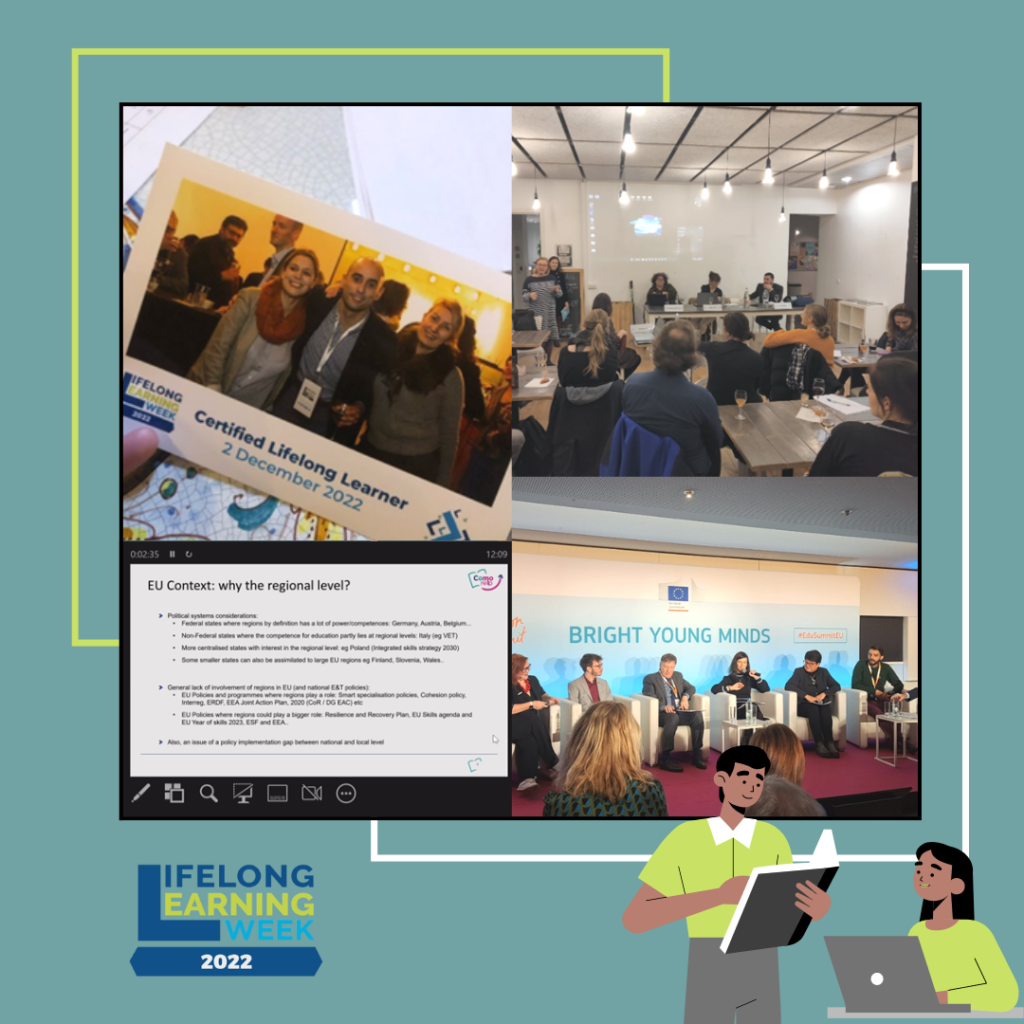 This year's Lifelong Learning Week was held from 28 November – 2 December 2022 in Brussels and online, and focused on the capacity and need of lifelong learning to answer to the growing challenges of digitisation, the green transition and internationalisation, under the annual theme of the Lifelong Learning Platform (LLLP) 'Investment in Education and Training: a Public Good for All.'
EARLALL enjoyed the learning and exchange opportunities of the week while participating in several of the events organised by the Platform's members. This year's Lifelong Learning week was hosted by MEP Milan Zver, a member of the European Parliament's Committee on Culture and Education (CULT).
The dynamic week opened with a networking event: European Lifelong Learning Civil Society Forum focusing on the subject of "Investment in education and training: a public good for all." The opening gathered academics, policymakers, teachers, civil society organisations and public authorities representatives, offering EARLALL the opportunity to strengthen our connections with Brussels-based lifelong learning organisations and platforms. The policy discussion was followed by a social reception where participants could become 'certified lifelong learners.'
Our highlights from the week's agenda:
Lifelong Learning Interest Group – Investment in education and training transnational cooperation: what target or goal for learning mobility? | Tuesday 29 November
The event was opened by MEP Sirpa Pietikäinen, Chair of the European Parliament Lifelong Learning Interest Group, followed by the presentation from Fiorella Perotto, European Commission's Directorate General for Education and Culture (DG EAC along with panellists from across the learning cycle. The discussions concluded that while higher education has particularly grown with Erasmus+ mobilities, adult education and apprenticeships are lagging in terms of international mobility options.
The "Forgotten" of Digitalisation | Wednesday 30 November
The event, hosted by the European Association for the Education of Adults (EAEA) and the LLLP, was an opportunity for Lire et Ecrire and MAKS to discuss their work in building basic skills and digital literacy skills among the most digitally and socially vulnerable populations. The discussions that followed highlighted the importance of first increasing basic skills among these "forgotten" populations, and developing specific digital methodologies to complementarily increase both digital and traditional literacy.
Investing Lifelong Learning in EU Regions| Wednesday 30 November
This policy workshop was organised by LLLP and Foundation of European Regions for Research, Education and Training (FREREF). The event was the opportunity for EU, national and regional policy-makers, experts, education and training representatives, and civil society representatives to discuss tools, practices and recommendations that aim to improve lifelong learning policies in EU regions. One of the main outcomes of the discussion among stakeholders at the European Commission's Directorate-General for Structural Reform Support (DG REFORM) and DG EAC was that we need to foster more synergies between higher education providers, non-formal education providers and informal education providers at the regional level, as this is sorely missing in the current EU context.