Go back
EARLALL Brussel-Based Representatives exchange on the 2023 Year of Skills
16/12/2022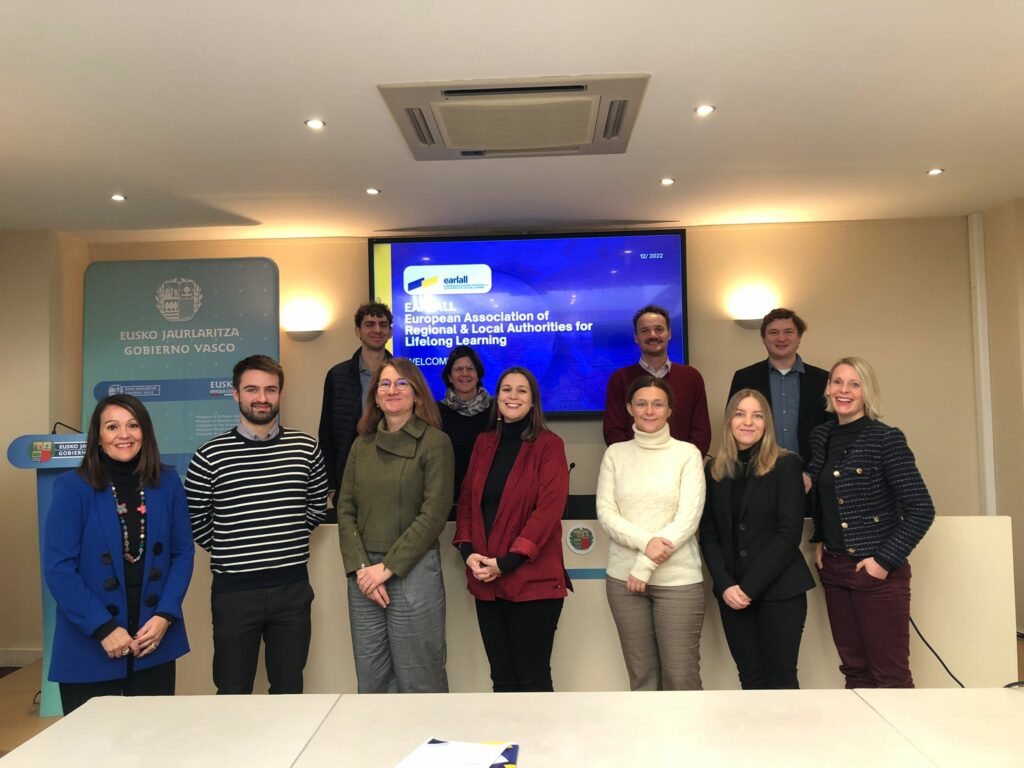 EARLALL Brussels-based representatives met on 14 December 2022 in the Basque Delegation Brussels, the office of the current presidency of the network. The meeting welcomed representatives from the Autonomous Province of Trento; Vestland (Norway); Tuscany; Region Västra Götaland (Sweden); the Basque Country; Brittany; Catalonia; Baden-Württemberg (Germany); SwissCore; GO! and the Welsh Government.
The meeting opened with a presentation from Anna Carerro, Deputy Head of Unit – Vocational Education and Training, Cedefop at the DG Employment, Social Affairs and Inclusion in the European Commission, about the European Alliance for Apprenticeships (EAfA). The Alliance has been growing since 2013, and in 2023 will celebrate its 10th anniversary. Ms Carerro expanded upon the possible topics of interest for the EAfA in 2023, including developing apprenticeships as a way to secure skilled employees in SMEs.
Ms Carerro also presented the European Commission's plans for the European Year of Skills 2023. She highlighted that the Commission's vision for the year is wide-ranging and that they are particularly keen to raise awareness among citizens, stressing the role of the local and regional levels in communicating and sharing their initiatives. The Commission hopes to engage with all relevant stakeholders and to hear from regional and local levels on best practices and projects for the year.
The discussion then opened up to all EARLALL representatives, who shared their projects for the European Year of Skills and exchanged them with one another. The Autonomous Region of Trento discussed a project in the pipeline to combine various initiatives in digital innovation, AI, Deep Tech and rural and urban development under the annual theme. Moreover, SwissCore expressed that the Year of Skills is being used to put the importance of Erasmus Plus at the forefront, while Wales shared that they have an upcoming Skills Action Plan which will pave the way to Wales' ambition to be Net Zero by 2050.
Participants agreed to meet again in the new year to share their region's priorities, events and projects that could be relevant as part of the European Commission's European Year Of Skills 2023. The EARLALL secretariat will shortly be in contact with the members to facilitate this.
EARLALL, for their part, showed the Work Plan 2023. Within the context of the European Year of Skills, representatives were invited to join the first Gender Task Force meeting on 24 January 2023, as well as an online webinar on Individual Learning Accounts on 9 February 2023 (more information coming soon).