Go back
EARLALL Academy #2: Unpacking the New European Bauhaus
16/03/2023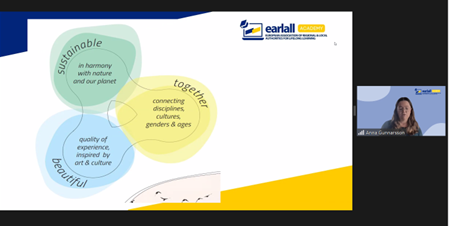 On March 16 2023, the EARLALL Academy held its second session on the New European Bauhaus. The Academy has been launched to best fulfil EARLALL's ambitious work plan and to continue to support its members in their capacity-building at the local and regional level of lifelong learning. In each MasterClass, we will invite a new speaker to give an in-depth lesson on transversal themes and topics pertinent to the whole network. The online classes will be learning opportunities tailor-made for the needs of EARLALL's members.
The Masterclass was held by Anna Gunnarsson, educator, project manager and developer at the Navet Science Center in Borås. The Hub Science Centre works primarily with education in mathematics, science, sustainable development and technology. The knowledge centre offers a wide range of learning activities – both at home and in the field – for children and young people in preschools, primary schools and secondary schools throughout the Sjuhärad region. It is a partner in the New European Bauhaus and part of the first report on it.
During the session, participants gained an overview of the New European Bauhaus as the 'soul' of the European Green deal, the role of collaboration and the ways in which the Bauhaus encourages formal and informal learners to reconsider their own working patterns and spaces for a sustainable future. These topics are highly pertinent for many of EARLALL's regions as they tackle the twin transition with a collaborative, sustainable and multilevel approach, during all stages of formal and informal learning. Ms Gunnarsson emphasised how transversal the New European Bauhaus is across different borders and ages, adding that "we can't do things in the old ways and we can't have new ideas flourishing if we try to do things by old rules. We need to innovate how we innovate"
You can read further for more information on the Navet Science Centre and on the New European Bauhaus.
The next EARLALL Academy session will be in June 2023 on MIL – Media and Information Literacy. More information is coming soon.