Go back
Digital Tools for Guidance: BRIDGE+ Workshop at the European Week of Regions & Cities 2019
14/10/2019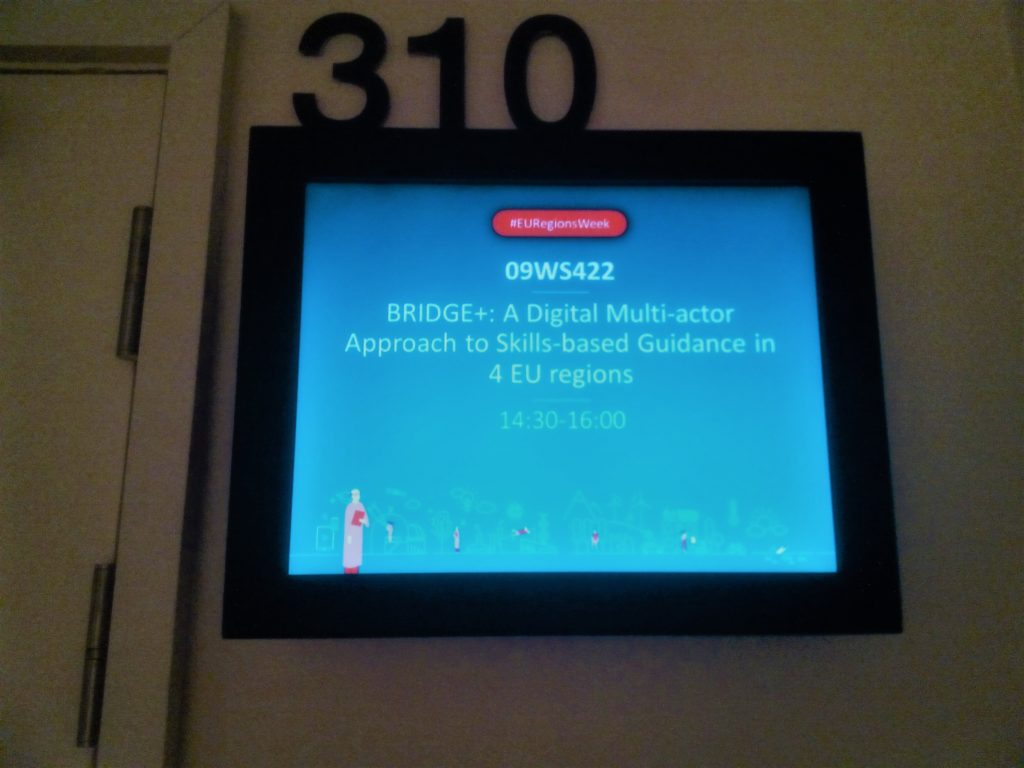 On 9 October 2019, EARLALL's workshop "BRIDGE+: A Digital Multi-actor Approach to Skills-based Guidance in 4 EU regions" took place at the SQUARE centre in Brussels in the context of the European Week of Regions & Cities 2019. During the session, hosted by Ms. Andrea Bernert-Bürkle (Volkshochschulverband Baden-Württemberg, project coordinator), the BRIDGE+ project (funded by the European Union under Erasmus+ KA3) was introduced to the audience.
The workshop presented the project's work so far in using new technologies to support guidance and skills matching at regional level. A digitalisation strategy, an alliance for vocational training and a lifelong learning pact were introduced as key pillars of Baden-Württemberg's work towards regional development through skills by Mr. Rolf Ackermann (from the Ministry of Culture, Youth and Sports Baden-Württemberg). These policy actions are being implemented by means of projects such as Wirtschaft digital, Digitalakademie@bw, Digital Hubs, Lernfabriken 4.0, Digitaler Weiterbildungscampus, basic skills initiatives, and Upskillig4all.
In this context, Baden-Württemberg's objective for the BRIDGE+ project remains linking more relevant and a larger number of actors to existing initiatives: career guidance institutions, adult education providers, companies (and, more specifically, SMEs). Furthermore, a stronger cooperation between the ministries for Education and Economy within the region together with municipalities is a key action to be fulfilled.
After Baden-Württemberg's presentation, Mr. Víctor Arias (director of internationalisation at TKNIKA – Basque Centre of Research and Applied Innovation in VET) introduced the Basque Country's skills anticipation strategy. He explained it by means of three branches: a) services to society, b) qualitative services and c) sustainable services. Need anticipation was deemed key for skills anticipation, taking into account that speed, flexibility, versatility and transversality are fundamental aspects for competitiveness.
As a conclusion, Ms. Noelia Cantero (EARLALL Business Manager) referred to René Magritte's words: "A thing which is present can be invisible, hidden by what it shows." We have to look into those "invisible" skills that are already there!
Mr. Víctor Arias

Mr. Rolf Ackermann

Ms. Andrea Bernert-Bürkle
Useful links