Go back
Baden Württemberg's State Secretary Visits Västra Götaland's Education Projects
01/10/2019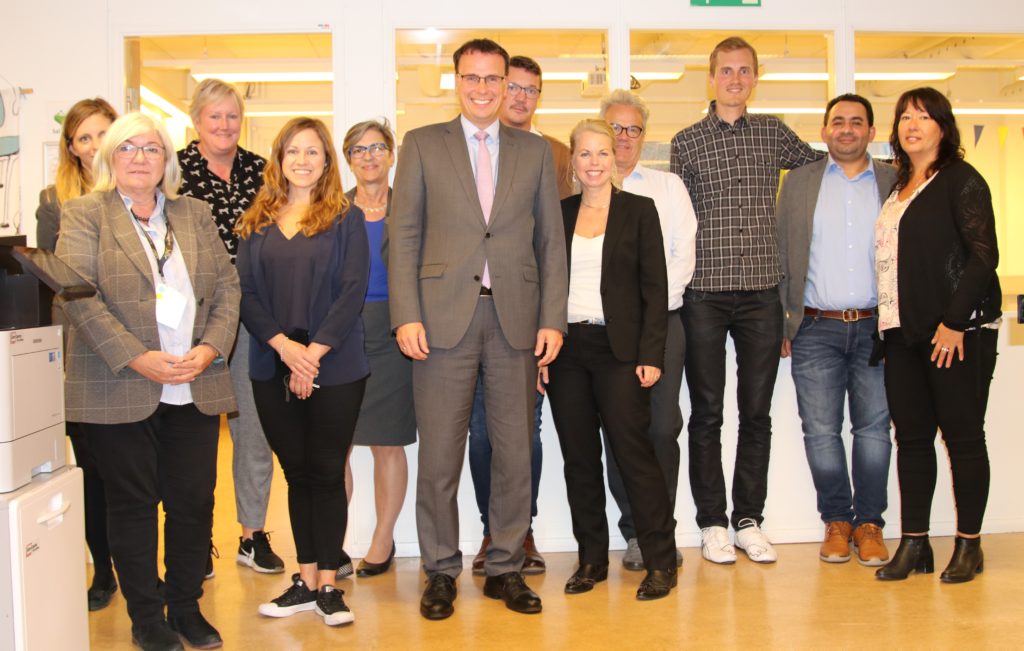 European projects are often the motor for important innovations in the field of education. Indeed, in the last years, Swedish fast-track integration concepts have been a role model for Baden-Württemberg. This is the reason why Mr. Volker Schebesta, State Secretary in the Ministry of Culture, Youth and Sports of Baden-Württemberg got to know their implementation first-hand in Gothenburg (Västra Götaland, Sweden) on Thursday, 26 September 2019.
At the Swedish language school "Cuben Utbildning," Mr. Schebesta was introduced into their Swedish fast‑track language and integration course offer, which has been further developed and successfully transferred to Germany and Norway thanks to the Erasmus+ strategic partnership "New TALENTS for companies – Developing the potentials of immigrants and refugees (TALENTS)". The TALENTS project is coordinated by the Volkshochschulverband Baden-Württemberg. The Ministry of Education Baden-Württemberg, Cuben and other partners from Sweden, Norway, Austria, and Italy are also involved in the it, along with EARLALL.
Afterwards, the EaSI-funded project "Fast Track Integration in European Regions (FIER)" was also presented. The FIER project, coordinated by Region Västra Götaland, involves four partners from Baden-Württemberg: the Ministry of Education, the Jobcenter of the City of Stuttgart, the University of Education Weingarten and the Volkshochschulverband Baden-Württemberg. EARLALL is also a partner in this project.
The fast-track concepts are now being successfully implemented in Baden-Württemberg. On the one hand, their aim is the fast access of immigrants and refugees to the regional labour market. On the other, internships take place in parallel to the lessons, so that they can be applied right away. During his visit, Mr. Schebesta emphasized that "it is important that the time from arrival in Europe to starting a job is as short as possible". Indeed, the fast-track courses are a very successful option to shorten the way into the labour market. The State Secretary was also convinced of the methodical implementation of language and vocational courses at Cuben. "Classes are tailored to the individual needs of each participant. As a result, the language requirements of internships and workplaces can be ideally integrated in the course," he said.
Looking into the future, both regions converge with a common goal: organising and funding upskilling and retraining for those who are already employed in order to meet the new demands of the labour market in the age of automatisation. This will be especially important regarding artificial intelligence (AI) and the electrification of the automotive industry.
Useful links