Go back
Apprenticeships in pandemic times? Regional COVID-19 responses showcased at EAfA-CoR workshop
01/10/2020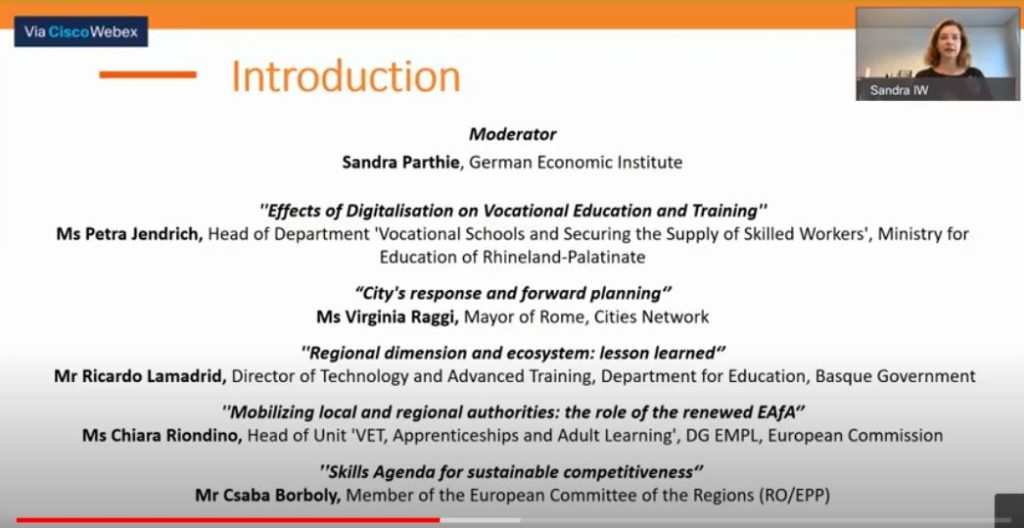 On 29 September 2020, the European Commission's European Alliance for Apprenticeships (EAfA) and the Committee of the Regions (CoR) organised an online workshop about the impact of COVID-19 on apprenticeships. The event counted with the support of the German Presidency of the Council of the EU and a strong involvement of EARLALL and the Basque Government (EARLALL Presidency). Regional best practices to support apprenticeship systems in the context of the pandemic were showcased, with the participation of two EARLALL Member Regions: Basque Country and Rhineland Palatinate.
Petra Jendrich, Head of Department 'Vocational Schools and Securing the Supply of Skilled Workers', Ministry for Education of Rhineland-Palatinate, introduced the effects of digitalization on Vocational Education and Training (VET). She reminded that, even if these are challenging times, the German Presidency is working "to ensure that in the framework of the European Education Area, learning mobility is increased, the recognition of education qualifications is facilitated and an umbrella for cooperation in VET is initiated."
Then, Virginia Raggi, Mayor of Rome, introduced the EAfA's cities' network, aimed at engaging the local perspective in promoting apprenticeships. She insisted on the importance of investing in reskilling and upskilling, offering new VET opportunities to workers who faced redudancy during the COVID-19 outbreak.
Rikardo Lamadrid, Director of Technology and Advanced Training, Department of Education, Basque Country provided a regional perspective and showcased lessons learnt during the pandemic outbreak. He introduced the measures established by the Basque VET system (FP Euskadi) and implemented by VET centres in the region. A key element was the support to the health sector, producing medical equipment such as facemasks and ventilators at the VET centres' facilities. On another note, support was provided to companies, and, more specifically, SMEs, so they could respond to trainees' needs. Regional partnerships and efficient communication channels were identified as main success factors.
| | |
| --- | --- |
| | |
The European perspective was finally introduced by Chiara Riondino, Head of Unit 'VET, Apprenticeships and Adult Learning', DG EMPL, European Commission. She highlighted the role of a renewed EAfA and its new targets, among which "mobilising local and regional authorities" is considered a key priority. On the Committee of the Regions' side, Csaba Borboly, CoR Member (Romania, EPP) assessed the role of the Skills Agenda for sustainable competitiveness.
A discussion among speakers followed about how education systems can support resilience at local and regional level. Lastly, Apostolos Tzitzikostas, President of the Committee of the Regions, provided some closing words and insisted on the importance of dialogue between the European Commission, Member States and regional authorities.
Useful links