Go back
Smart recovery in rural communities through youth engagement and social innovation
Organised by: E40, ZSI, and EARLALL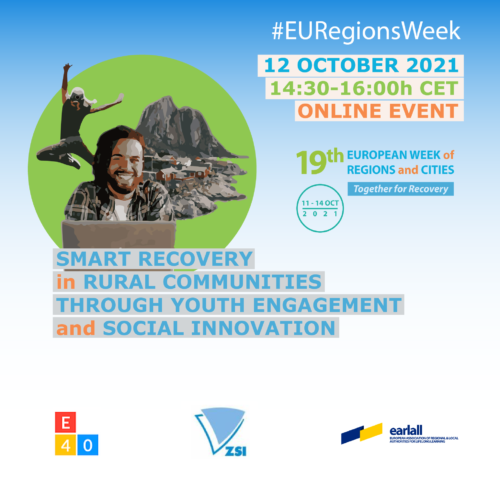 This session is focusing on how rural recovery can be made a reality through inspiring stakeholder engagement methods – with particular focus on youth engagement – and social innovation. It brings together knowledge and bottom-up experience from various EU-funded initiatives: the Preparatory Actions on Smart Rural Areas in the 21st Century (funded by DG AGRI), the CERUSI Interreg Central Europe project, and the YESpecialist Erasmus+ project. Among others, the session aims to demonstrate how various funding schemes support creative citizens' engagement methodologies that can help local communities become more resilient.
The session is implemented through the collaboration of three organisations: E40, an international consultancy in stakeholder engagement  – coordinator of two EU-funded service contracts on 'Preparatory Action for Smart Rural Areas in the 21st Century'; ZSI, Centre for Social Innovation – coordinator of the Interreg Central Europe project CERUSI and Vestland County Council – coordinator of the YESpecialist Erasmus+ project.
The session will feature interventions from EU policy coordinators from DG AGRI and Interreg Central Europe and a series of inspiring local citizens' engagement initiatives from across Europe.